Home > Sports > Stars We Spotted


Spotted! Dhanraj Pillay in Kuala Lumpur

October 12, 2006

We recently launched a new feature where we post images of world sportsmen contributed by you Dear Readers.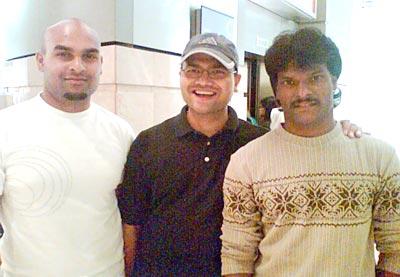 If you encounter/meet/see cricketers or sports personalities and photograph them, please scan the photographs and mail the pictures to us. We will feature the best images right here on Cricket or Rediff Sports.
Reader Mahesh sent us this picture from Kuala Lumpur.
'This was in 2005 when I met with Dhanraj Pillay (right) and Len Aiyappa in KLCC, Kuala Lumpur,' writes Mahesh.
'I have been a hockey fan to the core and meeting Dhanraj Pillay has been the best exponent of the game and in person was a dream come true. I was not carrying a camera on me, but a 1.3 megapixel mobile camera came to rescue to give this pic to be cherished for life...'
So rush those photographs to us!