Home > Sports > Stars We Spotted


Spotted! Gorgeous Steffi in London

October 03, 2006

We recently launched a new feature where we post images of world sportsmen contributed by you Dear Readers.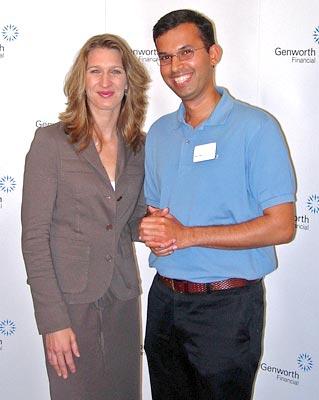 If you encounter/meet/see cricketers or sports personalities and photograph them, please scan the photographs and mail the pictures to us. We will feature the best images right here on Cricket or Rediff Sports.
Reader Ranjeet Chhabra sent us this picture from London.
'This photograph is of my friend Amit Dixit who had a oppurtunity to meet Steffi Graf in London,' writes Ranjeet.
'Steffi is a brand ambassador of GE and recently she was in London in association with a promotianal campaign. Though, Amit is too shy by nature (as u can understand that I am posting this on his behalf), but he showed great confidence in posing a smile with the beauty legend.'
So rush those photographs to us!


What do you think about the story?








Read what others have to say:





Number of User Comments: 3








Sub: steffi graff..

No wonder that steffi remains one of the greatest players in tennis history...she has an exemplary character as a decent human being too...and if one ...


Posted by Faheem









Sub: Spotted Steffi Graf in London

I thing Staffi Graf is a very good player,very nymph and successful lady


Posted by Rupin









Sub: steffi and a beauty????

Steffi, a beauty legend?? whats wrong with this reader?? steffi is anything but beautiful.... well, in comparison to Martina Navratilova, Steffi was a beauty, but ...


Posted by madhav






Disclaimer