Home > Sports > Stars We Spotted


Spotted! Prabhjot, Harpal in Germany

November 02, 2006

We recently launched a new feature where we post images of world sportsmen contributed by you Dear Readers.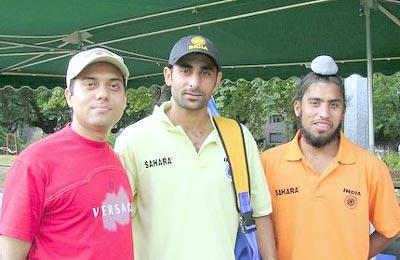 If you encounter/meet/see cricketers or sports personalities and photograph them, please scan the photographs and mail the pictures to us. We will feature the best images right here on Cricket or Rediff Sports.
Reader Vikas Kumar sent us this picture from Germany.
'Sometime back, when the Indian hockey team visited Germany, I had a chance to meet some of my current heroes up close,' writes Vikas.
'They were amazingly friendly and mixed with us very well. Here in the pic I am with Indian forward Prabhjot Singh and defender Harpal Singh.'
So rush those photographs to us!