Home > Sports > Stars We Spotted


When Pooja met 'Baby Goran'

November 01, 2006

We recently launched a new feature where we post images of world sportsmen contributed by you Dear Readers.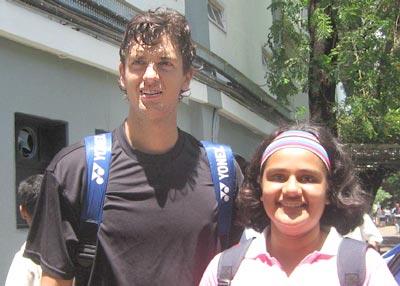 If you encounter/meet/see cricketers or sports personalities and photograph them, please scan the photographs and mail the pictures to us. We will feature the best images right here on Cricket or Rediff Sports.
Reader Pooja Mehta sent us this picture.
'This is the pic I clicked with Mario Ancic at the the Cricket Club of India before the Mumbai Kingfisher Tennis Open,' writes Pooja.
'Meeting Mario was a dream come true for me. Its difficult for us tennis fans, in india to meet such big names in the tennis world.
'The most impressive thing that Baby Goran said was, when he was offered a hard drink, he was like "I only drink water". This proves that he is still a baby and that is so cute.
'Watching the world number 10 live on court for the first time was the most exciting thing that ever happened. The effort that he puts in his game is commendable. Bringing such big players to India will surely give Indian Tennis a new standard.'
So rush those photographs to us!