Home > Sports > Formula One > Reuters > Report


Ice car for the Ice man

May 26, 2006 14:11 IST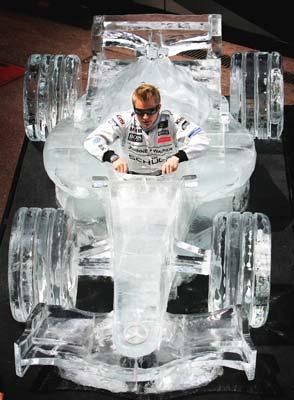 Kimi Raikkonen poses in an ice sculpture of a car organised by Steinmetz Diamonds during preparations for the Monaco Formula One Grand Prix.
McLaren Mercedes and diamond creators Steinmetz unveiled their latest collaboration, a diamond steering wheel, to mark the 40th anniversary of the Formula One team.
To announce the creation of the diamond steering wheels, Steinmetz commissioned the creation of an exact replica of this year's Team McLaren Mercedes F1 car, made from two tonnes of ice, into which Raikkonen, the Ice man, climbed.
It's not the first time the two have worked together as last year Steinmetz created diamond helmets for the team.
The steering wheel is not made of diamonds - rather the star in the centre has been emblazoned with round, brilliant cut, white, natural diamonds, expertly cut by Steinmetz, creating a visual impact inside the cockpit never seen before.
This is the first time that a sponsor has been allowed to alter the inside of the drivers' cockpit and Steinmetz is hoping to help steer Raikkonen and fellow driver Juan Pablo Montoya to victory.
Photograph: Getty Images
© Copyright 2006 Reuters Limited. All rights reserved. Republication or redistribution of Reuters content, including by framing or similar means, is expressly prohibited without the prior written consent of Reuters. Reuters shall not be liable for any errors or delays in the content, or for any actions taken in reliance thereon.

Formula One: The Complete Coverage