Home > Sports > Formula One > Reuters > Report


Rossi says no to Formula One

Alan Baldwin | May 25, 2006 12:32 IST



MotoGP champion Valentino Rossi turned his back on a career in Formula One on Wednesday and pledged his immediate future to racing on two wheels.

"No Formula One, at least for the moment. I'm staying with bikes," the charismatic 27-year-old told the Italian news agency ANSA. "I will carry on racing in MotoGP for a while yet."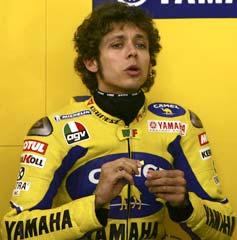 Rossi, as dominant in MotoGP as Michael Schumacher was in Formula One, had been courted by Ferrari and impressed in tests with the glamour team.
The Italian's decision not to try and follow in the footsteps of Briton John Surtees, the motorcycle world champion who won the Formula One crown with Ferrari in 1964, ended a long guessing game about his future.
Ferrari are waiting to hear whether seven times world champion Schumacher, now 37, wants to continue in 2007 and have been linked to McLaren's Finnish driver Kimi Raikkonen.
With Rossi out of the picture, Ferrari's 2007 lineup is likely to be Raikkonen -- if the rumours are true -- with either Schumacher or his Brazilian team mate Felipe Massa.
Rossi, champion for the last five seasons, thanked Ferrari for giving him the opportunity to try out a Formula One car in test conditions, saying it was "a beautiful experience".
"I believe my work in motorcycling is not yet finished: I still have so much to do and will carry on in MotoGP for a while," added the Yamaha rider in a statement to ANSA.
"I hope Ferrari achieve their target and that it coincides with mine -- to win the world championship."
WORST START
Rossi has endured his worst start to a season and is languishing in eighth place after five races.
Ferrari are second in their championship, 19 points behind champions Renault. Schumacher has won two of the six races.
Ferrari boss Jean Todt said in a statement at the Monaco Grand Prix that he took note of Rossi's decision.
"It was a pleasure giving him the chance to try out a Ferrari racing car," he said. "All those who worked with him were struck by his ability to adapt to Formula One, by his talent and courtesy.
"Now we will follow with great affection his MotoGP challenge, hoping that he can get what he so richly deserves."
Schumacher had mixed feelings. "In a way we are sad not to see him here. On the other side, it's understandable," the German told reporters.
"Probably he thinks he knows what he has in his world and it may be a little bit more difficult to know the world of Formula One and how he may adapt to all the different circumstances, although I think he has a very high talent and could have done it in terms of driving.
"But then it's not only the driving, there's a lot of other things besides," said Schumacher.
Renault's world champion Fernando Alonso, who incurred Rossi's ire earlier in the year when he said he could do just as well on bikes as the Italian in cars, was unmoved by the news.
"Good. Like this we don't talk anything more about him," said the Spaniard.
© Copyright 2006 Reuters Limited. All rights reserved. Republication or redistribution of Reuters content, including by framing or similar means, is expressly prohibited without the prior written consent of Reuters. Reuters shall not be liable for any errors or delays in the content, or for any actions taken in reliance thereon.

Formula One: The Complete Coverage