Home > Sports > Formula One > Reuters > Report


F1 gets the fight it was looking for

May 08, 2006 20:32 IST



Formula One has a real battle of champions on its hands at last after Michael Schumacher's second successive victory in the European Grand Prix in Nuerburgring on Sunday.

That win at the German's home track proved that Ferrari's success at Imola was no flash in the pan and that even at 37, the seven times champion remains as formidable a rival as ever.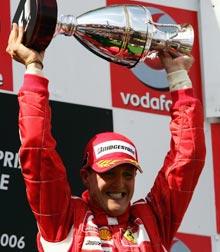 With Renault's champion Fernando Alonso also on top form, the sport can look forward to the generational battle it was denied when Brazilian Ayrton Senna died in 1994 just as Schumacher was emerging.
"Michael didn't look too bad did he? For an old man, he was alright," declared Ferrari technical director Ross Brawn at the Nuerburgring.
"It was another great performance from Michael, but of a different type. Imola was a very defensive race and with problems and he managed to win that. Here we had the ingredients to attack and he did that as well.
"He's not on the downward slope yet, I know that for sure."
With 13 races to go, Formula One fans can expect a season-long duel between ageing warrior Schumacher, the most successful driver in the history of the sport with 86 wins, and 24-year-old Alonso, the youngest of champions.
That did not happen last season when Schumacher's five-year reign petered out limply as Ferrari lost their way.
Renault won the first three races of the season and Ferrari have now taken the last two. Alonso, who has two wins and three second places, remains 13 points clear of nearest rival Schumacher.
VERY TOUGH
"It's no surprise to expect Renault up at the front and also they shouldn't be surprised to see us at the front either," Schumacher said. "We will battle to win."
McLaren's Kimi Raikkonen, Alonso's main rival last year when he won seven races, will surely also come into the mix soon.
The Finn is third, 21 points adrift of Alonso. He finished a close fourth on Sunday, in the slipstream of Ferrari's Brazilian Felipe Massa.
"Don't write Kimi off," warned Renault's master tactician Pat Symonds. "He wasn't far behind today, they're still looking reasonably strong.
"It is more a Michael-Fernando battle, more a Renault-Ferrari battle, more a Michelin-Bridgestone battle... but there might be some others who come along to the party."
McLaren managing director Martin Whitmarsh regarded it as a three-way battle, even if his team are still hurting at not having won any races yet.
"Ferrari are a good team and Michael is an outstanding driver. Great champions are like that, when they get a sniff of success, they can step up a gear or two," he said.
"I think Michael will score more wins probably, so will Alonso and I believe we will too.
"I think its very clear that, and if you look at Kimi the next car was over a minute behind, there are three teams fighting for this."
Ferrari boss Jean Todt did not exclude Honda coming back into the fray, with Jenson Button and Brazilian Rubens Barichello, and Brawn saw a tough few months ahead.
"It's just a slog from now until whenever, to try and not lose any points and try and gain points whenever we can," he said of Ferrari's challenge.
"It will be very, very tough. I make no bones about it.
"We've got to be optimistic to do it, we've got to assume we can do it but we gave Fernando a very good start to the championship. He's a very tough competitor so it's going to be extremely difficult."
© Copyright 2006 Reuters Limited. All rights reserved. Republication or redistribution of Reuters content, including by framing or similar means, is expressly prohibited without the prior written consent of Reuters. Reuters shall not be liable for any errors or delays in the content, or for any actions taken in reliance thereon.

Formula One: The Complete Coverage