Home > Sports > News > PTI > Report


Narang aiming for Olympic berth

March 24, 2006 19:31 IST



Having proved his mettle in the 50m rifle three position shooting event, Gagan Narang has set his eyes on clinching an Olympic quota in his newly chosen discipline by 2006.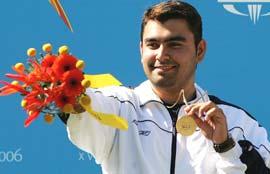 Narang won the individual gold in the event with a record score to boot at the 18th Commonwealth Games on the penultimate day of the shooting events in Melbourne this afternoon.
"I am happy that I am getting in to the groove at international level in Rifle 3 positions to which I took to lately," Narang told PTI.
"My performance here should drive me to claim an Olympic Quota berth this year itself. I have not set any goals as to when I should achieve it.
"I took to rifle 3 position, which is one of most difficult events in shooting, in order to get better quipped in air rifle too and I am happy that I have started showing results."
It was the Hyderabad-based marksman's fourth gold in as many events, an achievement second only to Samresh Jung who has won five gold, a silver and a bronze so far.
"I can only credit my performance here to my coaches and the long training schedules that we had in preparation for the Games," Narang said.
His golden haul came in 10m Air Rifle (Individual and Pairs) and 50m Rifle 3 position (Individual and pairs) and he set new records in Air Rifle Pairs and Individual 10m Air Rifle (qualification and Final) and 50m Rifle 3 Positions (qualification and Final). 
Narang maintained his consistently high standard and scored a 98.4 in the final to grab the gold medal with a total of 1261.4 (1163 plus 98.4) points, a clear 12 points from teammate Abhinav Bindra (1151+97.6=1248.6) and Australia's Ben Burge (1150+88.2=1238.2).
Narang eclipsed Charan Singh's earlier best of 1251.5 set at Manchester Games in 2002.
Bindra said he was keen to carry forward his good form into the Shooting World Cup in China.
"I am content with my performance today and at the Commonwealth Games so far. I am now looking to take this experience gained here to perform even better at the forthcoming World Cup," Bindra said.
The 23-year old from Chandigarh had earlier won two gold in the 10m Air Rifle Pairs and the 50m 3-Position pairs events with Narang besides a bronze in the 10m Air Rifle.
"I am happy about winning the silver medal for India and am proud that the gold was also won by an Indian.
"The Indian shooting team has performed very well so far and I hope that our prize winning performance encourages more Indians to take to shooting so that by the next Commonwealth Games in Delhi, India has a sizeable contingent representing her and is considered a strong contender for the number one team."
© Copyright 2006 PTI. All rights reserved. Republication or redistribution of PTI content, including by framing or similar means, is expressly prohibited without the prior written consent.