Home > Sports > News > Report


Vicky Batta gives India second weightlifting medal

March 16, 2006 17:54 IST



India let slip a golden chance to clinch its second gold of the day when 25-year-old Vicky Batta faltered at crucial moments and had to set for the silver medal in the men's 56kg category of the weightlifting competition at the Commonwealth Games in Melbourne on Thursday.

The gold medal was well in Batta's grasp with two lifts to go in clean-and-jerk, but he suddenly lost focus and came up with 'no lifts' in his second and third attempts while going for 136 kg.

Batta was lifting very confidently and when he cleared 131 kg in his first attempt in clean-and-jerk, a second gold for India looked imminent, but it turned out to be the case of so near yet so far.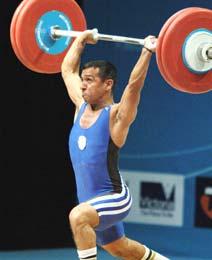 Batta just could not reproduce his form and failed in his second and third attempts. Interestingly, his personal best is 250 kg.
The gold was claimed by Malaysia's Mohd Faizal Baharom, who lifted 255 kg as against Batta's total lift of 245.
The bronze went to Malaysia's Matin Guntali, who lifted 238 kg and pushed another Indian, Edwin Raju, to fourth place. The Tamil Nadu lifter finished with 235 kg.
India thus ended the day in weightlifting with two medals -- a gold by Kunjarani Devi and Batta's silver.
A Punjab Police officer, Batta did well to match Faizal lift for lift while Edwin Raju was tantalizingly close to Guntali in the snatch event.
The 24-year-old Malaysian failed with the first lift of 110 kg in snatch but then lifted 110 and 115 in the second and third attempts.
Batta started promisingly, lifting 110, but then failed in his second attempt while going for 114. He, however, did well to lift 114 kg in his third attempt and trail Faizal by one kg at the end of snatch.
Forty-year-old Guntali, the oldest lifter in the competition, on a comeback trail, lifted 102 kg, 105 kg and then ended at 107 kg in snatch while Edwin Raju started with 101 kg but failed with 105 in his second effort even though he managed 105 in his third attempt.
In clean-and-jerk, disaster awaited the Indians, as Batta after a 131 kg lift, muffed the next two, while Raju failed with his effort to lift 136 kg in his last attempt.
Indian Weightlifting Federation secretary Balbir Singh Bhatia, who is in Malbourne as a jury member of the competition, was full of praise for the Malaysian, saying, "He is a very good lifter and deserved to win."
About Batta and Raju, he said, "I don't know why they were in such a hurry. At those crucial moments, they needed to concentrate but they looked out of focus.
"Look at the 40-year-old Guntali, who has come back from retirement and won bronze."
Final result: Mohd Faizal Baharom 255 (115+140), Vicky Batta 245 (114+131), Matin Guntali 238 (107+131) and Edwin Raju 235 (105+130).