Home > Sports > Formula One > Reuters > Report


Button can be a winner in Bahrain

Alan Baldwin | March 10, 2006 13:41 IST



Jenson Button feels at home in Bahrain.

So much so that the 26-year-old Honda driver has bought himself a dream house on the southern tip of the island, not far from the Sakhir circuit that opens the Formula One season on Sunday.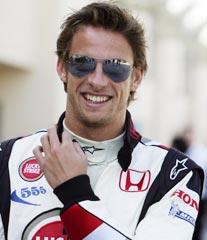 "I am the local driver. It's one of my home races. I've got here, Japan, Monaco and England now," the Briton told reporters on Thursday.
Button's home will not be completed until next year but Bahrain can still be the place of his dreams in other ways this weekend.
After becoming the youngest driver to complete 100 races, Button is still in search of a first win and he needs it more than he lets on.
The aura of a young charger that once surrounded him is fading fast, with Spaniard Fernando Alonso claiming the title with Renault last year at the age of 24, ahead of McLaren's 26-year-old Kimi Raikkonen.
Both men won seven races each in 2005.
With 20-year-old Nico Rosberg making his debut for Williams this season, just as Button did at the same age in 2000, the Briton is an established veteran with six seasons behind him already.
Britain's top racing hope, with the nation starved of individual success despite being home to a majority of the teams, needs to do more than finish on the podium as he did 10 times in 2004.
MASSIVE SEASON
It has been three years since a Briton won a Grand Prix, David Coulthard the last to succeed with McLaren in the Australian season-opener of 2003, and getting on for 10 since Damon Hill was champion in 1996.
Already British bookmakers are taking bets on Button failing to win a race all season, a story that earned the driver the cruel moniker of 'Formula One Racing Flop' in the Mirror newspaper.
Former team boss Eddie Jordan added his thoughts in the rival Sun, saying it is a 'massive' season and urging Button to 'get his arse in gear'.
"People have got on his back because he has not won a race yet and he needs to get them off his back," declared the Irishman.
Yet, after the false dawn of 2005 when Honda's predecessors BAR talked up their chances and fell flat on their faces with a two race suspension for breaking the fuel and weight regulations, the signs are that this could be Button's year.
The man who made more headlines last year for paying millions to get out of a contract with Williams than he did for his exploits on the track has a real chance of winning on Sunday.
"Definitely. We've completed over 25,000km with the car. We've done many, many race distances and so for me we've got the most reliable car on the grid," he said.
"Also it's very competitive. We still don't know how competitive it is but we know that we've given everything this winter and we couldn't possibly have done anything else.
"Coming here, we think we are going to be challenging for a win. That is the aim."
BIG ADVANTAGE
Honda have been pre-season pacesetters along with champions Renault and have the added bonus of being able to run a third car in Friday practice because they finished outside the top four last year.
That promises to be a significant advantage, with other teams likely to restrict their running on Friday because the new qualifying format means they will have to do many more miles on Saturday with engines that must still last for two races.
Honda also have a wealth of data from testing in Bahrain last month.
Alonso has tipped Honda as a team to watch, although Button saw through that: "He's just taking the pressure of himself," he said.
"You have to say that Renault and Alonso are the favourites, they've been quick in the winter, they had a very strong car here last year.
"But we've done the best that we possibly can this year and I know that we're going to be challenging them."
© Copyright 2006 Reuters Limited. All rights reserved. Republication or redistribution of Reuters content, including by framing or similar means, is expressly prohibited without the prior written consent of Reuters. Reuters shall not be liable for any errors or delays in the content, or for any actions taken in reliance thereon.

Formula One: The Complete Coverage