Home > Sports > First Look


First Look: The mettle to win

March 06, 2006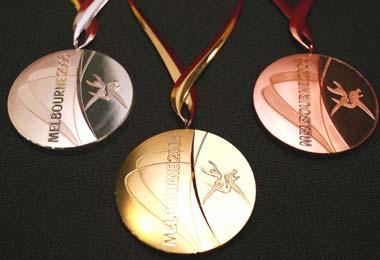 With just nine days until the start of the Melbourne 2006 Commonwealth Games organisers unveiled the prized medals to be awarded on Monday.
The gold, silver and bronze medals were launched by the President of the Commonwealth Games Federation Mike Fennell, Premier of Victoria Steve Bracks, the Australian Government's Minister for the Arts and Sport , Senator Rod Kemp, Melbourne 2006 Chief Executive Officer John Harnden, and Games ambassador Andrew Gaze, at the Melbourne Exhibition Centre, one of the main venues during the Games.
Premier Bracks said the M2006 medal design united the heritage of the Commonwealth Games with the spirit of the Melbourne 2006 event and recognized the significance of sporting achievement.
"The medals are a tribute to a significant number of small and large local and national companies joining together to create a medal all Victorians will be proud of," Mr Bracks said.
The heraldic and iconic emblem of the Commonwealth Games Federation is carefully embossed on the front side of the medal. On the back, the design uses elements of the M2006 identity and features the halo lines to create a dynamic, yet carefully considered, composition.
The prestigious quality of the medal is reinforced through the design by the layering of the surfaces and use of textured finishes in the manufacture process.
One of the most unique aspects of the medal design is the lanyard which is in the shape of two gum leaves. The designers, Flynn Silver, simply picked up two gum leaves while walking into the workshop one morning. They played with the concept to ensure there was another piece of Australia involved in the medal design.
245 gold medal events will be contested during the Games, while a total of 1334 medals will be handed out to athletes - 441 gold, 441 silver and 452 bronze medals (due to double bronze medal being awarded in boxing).
Photograph: Getty Images