Home > Sports > News > PTI > Report


Anju eyeing Commonwealth glory

Tushar Bhaduri | March 03, 2006 13:45 IST



Fresh from a training stint in South Africa, world number four long jumper Anju Bobby George is looking to better her performance at the upcoming Commonwealth Games, where she won a bronze medal in the last edition in Manchester.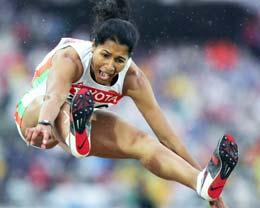 Anju said the trip to the rainbow nation was "useful" as it helped her acclimatise to conditions she is likely to experience in Melbourne during the multi-disciplinary sporting extravaganza from March 15 to 27.
"The centres are very good there [South Africa] and there are 10 acres of land to train on. Also, the synthetic track there is very good and most of the top athletes in the world come there to train," she said.
Anju added that the weather and the company of some fellow-athletes prompted her to train in South Africa.
"Most of the countries with good athletics facilities are very cold at this time of the year. Only Australia, South Africa and India have warm weather, which would help in acclimatising in Melbourne.
"The other athletes were also there and I enjoy being in a team environment," the 28-year-old Kerala lass said.
"At most of the top athletics competitions I am the only Indian representative and so I feel very lonely. But now I have got used to it."
The ace athlete, who has her personal training regimen worked out to the last detail in the build-up to the prestigious event, said such stints in foreign countries are crucial for athletes, as the same cannot be found in India.
However, she was pained by the fact that most Indian athletes could not afford individual coaches, trainers and other support staff and had to depend on the Federation to take care of them before major competitions.
"Having an individual training schedule requires a travelling manager, a personal coach and other people to help you at various international events. This costs a lot of money and most of our athletes cannot afford that," Anju said.
She said the foreign exposure trips, organised by the Athletics Federation of India for a large contingent, ahead of major events are very useful as it is very difficult for individual athletes to meet the expenses.
"Hence, they depend on the Federation to make the schedule for them," she said.
But Anju expressed hope that some Indian athletes would emerge in the near future and possibly reach the heights she has in her event.
"There are quite a few talented athletes who can do India proud at the international level," she said.
"Heptathletes J J Shobha and Soma Biswas and middle distance runners Ghamanda Ram and Pinki Pramanik have good potential. We also have some very good throwers and jumpers."
In the run-up to the Commonwealth Games, Anju willábe flying the Indian flag at the World Indoor Athletics Championship in Moscow from March 10 to 12.
She does not have much experience indoors, the 2003 World Championships in Birmingham and the recent Asian Championships in Pattaya, Thailand, her only appearances so far.
In Birmingham she finished seventh, clearing 6.40 metres, a national indoor record jump, while at Pattaya, a 6.32 metres jump gave her the silver medal behind Japan's Maho Hanaoka, ranked 29 spots below her. The Japanese cleared 6.40 metres.
Recalling her outing at the Thai beach resort, Anju said, "One needs experience while competing indoors. The atmosphere and conditions are totally different.
"The facility at Pattaya was a temporary one and the runway was not stable. It kept moving as one ran on it. The jumping pit was also a makeshift one," she said.
She said she did not lose much sleep over the second place finish there, as it only served as a preparation for the Moscow event.
"Last year too, my performances in the first half of the year were all below 6.50 metres, but I came up with the jumps when it mattered most," she said, referring to the gold medal at the Asian Athletics Championship at Incheon, South Korea, and the silver at the World Athletics Finals in Monaco.
Talking about the challengers in Moscow, the ace athlete said Americans Tianna Madison and Grace Upshaw are expected to give her a tough fight.
"Among the Russians, only world number one Tatyana Kotova is doing well right now."
In the national capital for the Federation Cup, she said the meet would serve as an ideal preparation for the Commonwealth Games.
"I will look to have some good jumps under my belt and get into rhythm," she said.
Looking ahead to the Melbourne Games, Anju mentioned Australian Bronwyn Thompson, Jade Johnson of England and Jamaican Elva Goulbourne as the ones to look out for.
"If one looks at the level of competition, the World championships and World Cups are definitely tougher, but in India we tend to give more importance to the Commonwealth Games and the Asian Games," Anju said.
Asked about her targets in terms of distances, she said she does not think in those terms.
"Winning is the most important thing. The mark does not matter. If I can win by jumping 6.50m or less, I would take it. On some other occasions, seven metres or more may not guarantee you a medal," she said.
The long jumper felt Indian prospects at the Commonwealth Games are bright and the country could hope for a good haul.
"We have some very good athletes who are genuine medal prospects. The AFI is also sending a bigger team this time as India will host the 2010 Commonwealth Games," she said.
India sent a token athletics contingent to Manchester last time and returned with two medals. In addition to Anju's bringe medal, Neelam Jaswant Singh won silver in discus throw.
Anju credited the Federation for grooming young talent, saying, "The Federation has to look after so many athletes but they manage to give individual attention to each one of them. They provide coaching in events where we have medal chances and thus put in optimum effort to ensure maximum output.
"When they send contingents abroad for exposure trips, the athletes are accompanied with Indian and foreign coaches who look after them so that they fulfill their potential. The Federation is doing a good job."
© Copyright 2006 PTI. All rights reserved. Republication or redistribution of PTI content, including by framing or similar means, is expressly prohibited without the prior written consent.