Home > Sports > > Football Fiesta > Specials


The Rediff Special/Onkar Singh

'Grand final between Brazil and Argentina'

June 26, 2006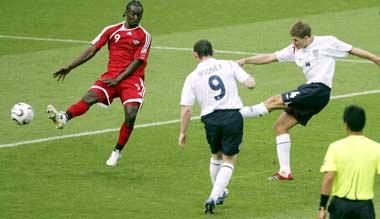 Cricket has, for a change, taken a back seat (in India right now). Understandably so. I have been watching the World Cup from the opening day on June 9. I am impressed by almost all the teams," says Bishen Singh Bedi, the legendary left-arm spinner and former Indian cricket captain.
'Germany could win the World Cup'
"Let me first of all pay tribute to the Germans. They have produced outstanding grounds and six-storey stadiums to accommodate huge crowds. Barring an incident here or there, the security has been the tightest and has not allowed hooligans to spoil the fun," says Bedi.
'Beckham's smile can melt a box of bon-bons!'
"I am little amused by the media comments about Brazil's Ronaldo and France's Zinedine Zidane. Why have (sports) writers (and commentators) written them off? These are the giants of World Cup soccer and on their day can swing the game to their advantage.
"The quality of football being played is simply superb! Six new nations -- Angola, Trinidad and Tobago, Togo, Ivory Coast, Ghana, Ukraine -- have also displayed tremendous control over the game. These nations may not be giants in football right now, but they are definitely teams to watch out for in the future," feels Bedi.
Have YOU joined a football team yet?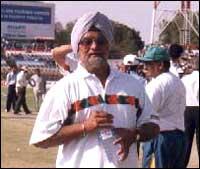 "Control over the ball is so good that no team wants to let go of it! The Brazilians and the Argentinians have displayed their supremacy over the game with authority. But the game that impressed me the most was Brazil versus Australia and Ukraine versus Saudi Arabia. Though Trinidad and Tobago (above) is not known for football (supremacy) it gave a splendid display of its soccer skills during the first two matches they played.
Check out all our exciting Football Fiesta slide shows
"The fitness level of each player in Germany is something our cricketers must take note of. Their cheekbones stand out, unlike our cricket heroes whose flesh stands out more than their cheekbones!
"I would love to see a grand final between Brazil and Argentina. I am not sure if that will happen. But one thing is definite: no matter which two teams lock horns in the finals, the winner will be football. The game will improve tremendously by the time the next World Cup comes around four years from now."
Photographs: Getty Images and Rediff Archives
More Specials



What do you think about the story?








Read what others have to say:





Number of User Comments: 3








Sub: Football In India

In India most of the foolball clubs are in Bengal. And these bengalis don't have much stamina to play full 90 minutes with speed. One ...


Posted by jk









Sub: World Cup Final ..

Nostradamus has predicted a Spanish win !! So ..


Posted by Sajit









Sub: Soccer..how about in india ?

How about diverting some Cricket money as soccer tax or sumthin... or "Other sports neglect tax" we need to start paying fatter paychecks to ppl ...


Posted by Abhinav






Disclaimer