Home > Sports > > Football Fiesta > Specials


The Rediff Special/Player of the day

'Little Mozart' comes of age

June 13, 2006



It was not Pavel Nedved or Petr Cech who stole the limelight in the Czech Republic's opening World Cup match against the United States, but Tomas Rosicky, who scored two goals in a convincing 3-0 victory.

Rosicky struck a superb 25 metre goal in the 36th minute to leave US goalkeeper Kasey Keller helpless as the ball swerved away from him into the top left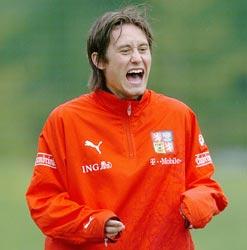 corner of the net. He then capped the win with a second and the team's third in the 76th minute.
Nicknamed "Little Mozart" for his orchestration of play, Rosicky won his first cap when he was just 19 and has since been capped 53 times.
The 25-year-old, who has traded the yellow shirt of Borussia Dortmund for the red of Arsenal, came along just as Juventus midfielder Pavel Nedved raised his game to a new level to eventually become the European Footballer of the Year in 2003.
With Nedved in self-imposed exile after the Euro 2004 tournament, Rosicky blossomed during the World Cup 2006 qualifying campaign, scoring seven goals and setting up several others.
His most dangerous partnership is with giant striker Jan Koller, his teammate at Borussia Dortmund for the last five seasons.
In November, an injured Rosicky scored the winner in the second leg of the Czech Republic's playoff against Norway to seal the country's first World Cup appearance since Czechoslovakia made it in 1990, when Rosicky was just a nine year-old schoolboy.
"I first admired him for going on the pitch with the health complications he had. And he crowned it with the winning goal, this tells you everything," coach Karel Brueckner said after the Norway match where Rosicky played through a calf injury.
Rosicky himself described the goal as "the most important goal of my life"
He set a Bundesliga transfer fee record in January 2001 when he moved from Sparta Prague after just 18 months in the first team as Dortmund beat off competition from Liverpool for his signature.
The German club's exit from Europe and eventual fall into heavy debt prevented him from shining at the top European level. But the move to Arsenal next season will provide with him that opportunity.
But, first, he will have to sparkle among the best -- at the World Cup in Germany and that is where his true potential will be known. He has already made a good start. Czech fans will be hoping his scoring form continues.
Text: Reuters
More Specials