Home > Sports > FIFA World Cup > Reuters > Report


Who invented football?

Iain Rogers | June 01, 2006 12:03 IST



Who really invented football -- Native Americans? South American Indians? Was it Mexicans, Florentines, Chinese, Japanese or Eskimos?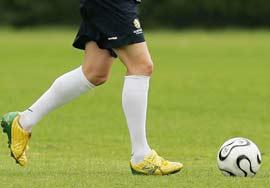 As Germany gears up for this month's World Cup, the "Fascination Football" exhibition at the Hamburg Museum of Ethnology seeks the answer to this question by tracing the roots of the modern game back thousands of years.
Colourful displays of balls, costumes, footwear and other equipment bring the ancient sports from which modern soccer evolved to life. Visitors can collect 100 different beer mat-sized cards detailing facts about the game as they walk around.
"I'm not a football fan but I am just fascinated by the variety, all the different things they have brought together here," said Lucia Niederwestberg, 57, a teacher from Hamburg.
"It's nice that I have the chance to find something out about the game other than just watch the matches on television with my brother."
The earliest form of soccer is generally thought to be a Chinese game called cuju ("kickball"), created some 4,700 years ago to teach soldiers about cooperation and vigilance.
Two teams would do battle on a rectangular pitch and aim to shoot a leather ball through a hole high up on an intricately decorated gate, an example of which can be seen at the exhibition.
"Fascination Football" also tells of 6,000-year-old stone balls unearthed in the southwestern United States that are similar to ones used today by Native Americans in two kinds of soccer-like games.
In one, players pick the ball up with the instep and throw it as far as they can, while in the other -- so-called football races -- the ball is slung with the instep in a race over distances as long as 30 km.
JAPANESE KEMARI
The exhibition also features a pair of black and red ankle-length boots which were used in Japan from the seventh century by emperors, courtiers and samurai in the game kemari.
A team of eight players would kick the ball to each other and try to prevent it from touching the ground. The goal was to move as little as possible and the soles of the kemari shoes were not supposed to be revealed.
The exhibition also details a Mexican game called ulama dating back 1,500 years BC, a version of which is still played today. Players have to strike the ball through stone rings with their hips.
A walrus skull and tusks decorate a display explaining how Eskimos believe that the Northern Lights shine when their ancestors are playing football with a skull.
Eskimos typically like to play on ice pitches in temperatures of minus 50 degrees Celsius and traditionally welcome guests by challenging them to a match to help warm up together.
The first inter-continental soccer match apparently took place in Greenland in 1586 between an English explorer John Davis and his crew and the inhabitants of Godthab.
One of the most striking displays shows the origins of the Florentine "calcio storico", a game that has similarities with modern rugby that has been played since the 16th century.
Many of the basic rules and structures of modern soccer were first laid down in the Tuscan city, such as the halfway line, the wearing of team colours, referees and referees assistants and specific playing positions.
REPLICA PUB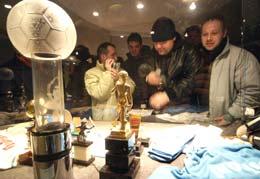 While the English created the world's first football association in London in 1863, Scotland is presented as a cradle of modern soccer and the museum has borrowed several pieces from the Scottish football museum in Glasgow.
These include a refreshment stall from the stadium of Edinburgh club Hibernian, selling such delights as Scottish steak and gravy pie and fruit pastilles.
Records show a match took place in Aberdeen in 1633 which included goalkeepers and man-to-man marking, while the world's first soccer club, Edinburgh's John Hope Football Club, was founded in 1824.
A corner of the museum entrance hall has been turned into a replica Scottish pub, honouring the place where soccer fans have traditionally enjoyed the "third half" and alcohol-fuelled discussions of the match take place.
The exhibition recounts how brewers and pub landlords have played their part in the development of football.
Brewer John Henry Davies rescued a club called Newton Heath in 1902 and renamed it Manchester United, while Tottenham Hotspur's stadium, White Hart Lane, is named after the pub that stood next to the property.
Anton, a seven-year-old from Hamburg, said his favourite display was the "holy turf", a small section cut from the pitch that was used for the first ever international match, between England and Scotland in Glasgow in 1872.
There were no soccer pitches in Scotland at the time and the match was played at the West of Scotland Cricket Club. There were 4,000 spectators and it ended in a goalless draw.
"I also liked the big football in the entrance hall and all the trophies," Anton said.

© Copyright 2006 Reuters Limited. All rights reserved. Republication or redistribution of Reuters content, including by framing or similar means, is expressly prohibited without the prior written consent of Reuters. Reuters shall not be liable for any errors or delays in the content, or for any actions taken in reliance thereon.