Home > Sports > Football Fiesta > Reuters > Report


Good in parts, but no lasting memory

Mike Collett | July 12, 2006 18:06 IST



Italy's [Images] victory over France [Images] in the World Cup final brought the curtain down on one of the best tournaments ever staged, despite some negative thinking from coaches and continual cheating from players.

The final itself will go into the record books as second only to the 1990 final as the worst ever played, Italy lifting the World Cup for the fourth time in their history after a shootout win.

Generally speaking when they were not trying to con referees, or searching for imaginary blood or bruising from injuries they never suffered, most of the 32 teams that started the competition a month ago produced some excellent football among some very mundane fare.

Itay's 2-0 extra-time semi-final win over hosts Germany [Images] in Dortmund was probably the classic match of the tournament -- in stark contrast to their penalty shootout victory in the final -- although Argentina's 2-1 second round win over Mexico in Leipzig which featured a spectacular extra-time winning goal from Maxi Rodriguez, was another superb game.

FEWER GOALS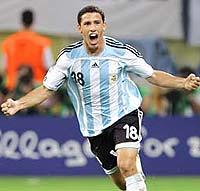 But there were fewer goals scored (147) in the finals than in either 1998 (171 goals) or 2002 (161 goals), the first two tournaments to comprise 64 matches and 32 teams and only 1990 had a lower goals per game ratio.
There were fewer shots on target and a record number of 28 red cards shown, the last to France captain Zinedine Zidane [Images].
Those statistics of course, do not tell the whole story, but they do indicate a trend towards more defensive football, with more coaches using a safety first lineup of four defenders, five midfielders and a lone attacker.
The 4-5-1 system is not the most adventurous, and as a result too many matches had too few goal attempts and goals.
Despite the conservatism of the coaches and the implausibility of recreating the high-scoring days of the 1950s, the World Cup always produces surprises and this one was no exception.
There were also some incredible and dramatic stories which will also live long in the memory.
After their failures at the 2002 World Cup and the European Championship in Portugal two years ago, no-one realistically expected France to meet Italy in the final.
ALL-TIME GREAT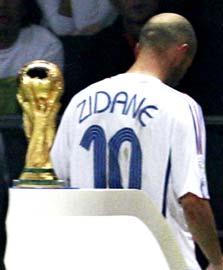 But France, somehow rediscovering the self-belief if not the grandeur of their World Cup winning year of 1998, made it all the way to the end, largely on the astonishing reincarnation of Zidane as one of soccer's all-time greats.
Playing the last match of his outstanding career and losing so poignantly on Sunday, makes his one of soccer's greatest comebacks, even if it ended on such a low note.
Italy's route there was no less absorbing in human terms, played out against the backdrop of the biggest scandal to hit Italian soccer in years.
Eight Juventus club mates took part in the final, either from the start or as substitutes. World Cup finalists on Sunday, their futures are now far from certain with the authorities waiting to deliver their verdicts in the scandal later this week.
Germany were desperate to repeat their home triumph of 1974, and although they failed, coach Juergen Klinsmann won a nation over by playing fast, attacking exciting football with a team lifted up by a wave of emotion.
Miroslav Klose finished as the tournament's top scorer with five goals and although Germany had to settle for third place they played an enormously significant role in making the World Cup so successful.
REIGN OVER
Defending champions Brazil [Images] never really convinced, despite starting the competition with four straight wins to establish an all-time World Cup record of 11 successive victories.
Ronaldo [Images] also scored three times to set a record of 15 goals in three World Cups but their reign ended when France beat them 1-0 in the quarter-finals.
England [Images], who had been widely tipped to reach at least the last four, also went out at the same stage, a hapless campaign ended by another defeat in a penalty shootout to Portugal, who reached the semis for the first time since 1966.
Among the debutants were four African nations: Ghana, Ivory Coast, Angola and Togo, whose World Cup descended into farce over a players bonus dispute, coaches coming and going and a threat not to play a match.
Other debutants like Trinidad & Tobago and Ukraine, who reached the quarter-finals also made their mark as did Australia who won their first ever matches in the finals and were a little unlucky to go out to eventual winners Italy in the second round.
Ghana, who scored wins over the Czech Republic and the United States, and Ivory Coast, unlucky to be placed in a tough first round group also impressed -- pointing the way forward to Africa's first World Cup in four years' time.

© Copyright 2007 Reuters Limited. All rights reserved. Republication or redistribution of Reuters content, including by framing or similar means, is expressly prohibited without the prior written consent of Reuters. Reuters shall not be liable for any errors or delays in the content, or for any actions taken in reliance thereon.