Home > Sports > Football Fiesta > Reuters > Report


Record-breaking Argentine referee ready for final

Timothy Collings | July 08, 2006 12:37 IST

Record-breaking Argentine referee Horacio Elizondo is likely to be the most important and controversial man on the pitch in Sunday's World Cup final between Italy [Images] and France [Images].

The 42-year-old physical education teacher, who is the first Argentine official to handle the showpiece game, has flashed 22 yellow cards and shown his red twice in four games, three of which have ended in uproar.

The law of averages suggests he is likely to book at least five players --- and there is a 50-50 chance of a sending off. He is a keen poet and golfer and may need those refuges for reflection if he oversees more discord at the Olympic Stadium.

He will be the first referee to control the opening match and the final and only the second to handle five matches at a World Cup. Mexican lawyer Benito Archundia, who refereed the Germany-Italy semi-final, was the first.

Elizondo, who speaks Spanish and English, but not French or Italian, is one of South America's most experienced and respected officials, but he has incurred the wrath of players and supporters from Ghana, South Korea and England [Images].

His handling of the opening fixture between hosts Germany and Costa Rica was a masterpiece of control and restraint -- with only one caution -- but Czech Republic's clash with Ghana in Group E was a very different story.

Seven players were booked and one, Czech Tomas Ujfalusi, was sent off for a foul that led to Ghana being awarded a penalty.

GHANA PROTESTS

As Elizondo was completing the dismissal, Ghana's Asamoah Gyan took the kick prematurely.

He was cautioned, for the second time in the tournament, and suspended, despite protests, from their next game against the United States.

In the Switzerland versus South Korea match Elizondo awarded a controversial 77th minute Swiss goal by over-ruling compatriot Rodolfo Otero's offside flag as Alexander Frei ran clear on to a deflected pass and several Korean defenders stopped playing.

This caused such dismay among the Koreans that FIFA had to block all e-mail messages from Korea to protect their website. Threats were also made to bomb the Swiss embassy in Seoul.

On the pitch, Elizondo produced 10 yellow cards, five for each team.

His boldest decision at the finals was to send off England striker Wayne Rooney for stamping on Portugal defender Ricardo Carvalho in their quarter-final clash in Gelsenkirchen.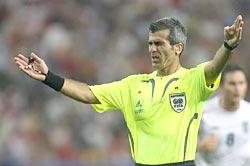 Rooney protested his innocence but FIFA president Sepp Blatter gave Elizondo his public support.
Born on November 4, 1963, Elizondo has been an international referee since 1996. He has controlled the 2002 and 2005 Copa Libertadores finals in South America and two Copa America finals.
He says he came into refereeing by accident, but now realises how lucky he has been.
"It was as if I'd been born to do it," he told FIFA'S website. "I never looked back. I realised that refereeing combines three things that are cornerstones of my life -- sport, teaching and justice."

© Copyright 2007 Reuters Limited. All rights reserved. Republication or redistribution of Reuters content, including by framing or similar means, is expressly prohibited without the prior written consent of Reuters. Reuters shall not be liable for any errors or delays in the content, or for any actions taken in reliance thereon.