Home > Sports > Interviews


The Rediff Interview/Carlos Moya

'I'd like to be remembered for my tennis, not looks'

January 05, 2006



Deepti Patwardhan in Chennai

Carlos Moya, with his rugged look, long tresses, looks like some medieval king. Standing tall at six feet three inches, the Spaniard brings the silent ferocity to the battle. It was this heart for a fight that saw him become the first player from his country to be ranked number one in the world.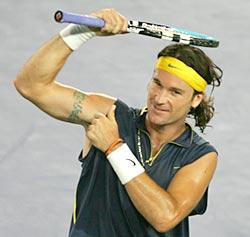 He's been there, done that, but the 1998 French Open champion is not sure he can be king of the game again.
"I don't think right now it's possible to become world number one again," he says matter-of-factly.
"Roger Federer is doing very well, so is (Rafael) Nadal and there are so many youngsters coming good."
After a successful start to 2005, when he won his second title at the Chennai Open, Moya suffered a shoulder injury and was out of action for the last two months. He also slipped outside the top-20 in the world for the first time in eight years.
"After the break I will have to fight to be a top-10 player again. I was in the top-10 before the injury and I'm sure I haven't forgot how to play tennis in three months. I still have the ability to beat the top players of the world," he says.
After opening his title defence in Chennai on Tuesday with a 6-4, 3-6, 6-1 victory over Dick Norman of Belgium on Tuesday, Moya declared he would be taking the campaign "step-by-step".
| | |
| --- | --- |
| | Also Read |
| | |
"The expectations are to win the tournament. I think the first two rounds are the toughest; once I get past them I'll feel like I'm in the tournament. I've always been a slow starter, and it takes a couple of days to get used to the conditions here. So the first few games will be important."

The Mallorcan, however, thinks the injury may have been a blessing in disguise as it helped him focus on his fitness and get back to the basics. In 2005 he won only one ATP title and had an ordinary 31-20 win loss record, before deciding to give his right shoulder some rest.

"I think the break was good. I was a little exhausted and needed to rest. I've been practicing for seven weeks, and it's probably the biggest break I've had in my professional career. Hopefully I'll be able to win this tournament to give me confidence.

"It is a difficult time when you're playing with the injuries. You lose matches that you were winning comfortably before. Tennis is a game of confidence for 70-80 percent of the time. It takes a dip when you're not doing well and you have to take it slowly when you're my age."

Moya, who turned pro ten years ago, blamed the increasing number of injuries on the swelling tennis calendar. It is not only the veterans on tour, like Moya and Andre Agassi, who are feeling the heat; last year most of the top players, including Federer, Nadal and Lleyton Hewitt, were laid low with some part of the body or the other aching.

"The tennis calendar is too tight. It has to be changed because we see a lot many injuries today even to the younger players. And if you're playing Davis Cup, enter the last stages of it, you'd be playing tennis pretty much for the whole year. Ask Ivan Ljubicic how difficult it is.

"The season ends in December and begins early in January, so you don't have enough time to recover. It's almost like you're playing two years in one season. It's not good for tennis."

Apart from getting his professional career back on track, Moya is also keen to help his team recover from the shock first round exit in the World Group at the Davis Cup last year.

"It was obviously tough losing in the first round of the World Cup last year when we were defending the title. We will have to start all over again.

"As for Nadal, he'll be playing in the Davis Cup if he's fit."

His tennis exploits apart, Moya also impressed the jury of People Magazine, which listed him as one of the 50 'Most Beautiful People in the World' in 1999.

"It doesn't help me; it doesn't hurt me either," he shrugs, "but I'd like to be remembered for my tennis, not for my looks."

More Interviews