Home > Sports > First Look


Federer, Nadal at Street Slam

August 25, 2006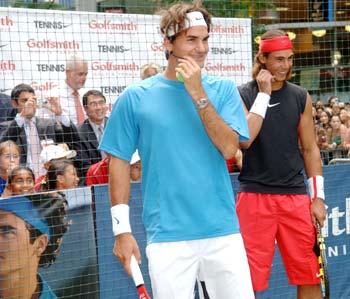 World number one Roger Federer and chief rival Rafael Nadal, aiming to write a new chapter in the hottest rivalry in tennis, had a easy day out at the NYC Street Slam on Lexington Avenue and 54th Street on Friday, before they get ready for the US Open, starting on Monday
While the pair will be the overwhelming favourites to contest a third successive Grand Slam final, Andre Agassi will be busy penning the last entry in his tennis memoirs as he contests his 21st successive US Open, a record in the professional era.
Federer and Nadal, who between them have won the last six Grand Slam crowns, are seeded to meet in a final that would extend their scintillating rivalry to the hard courts of Flushing Meadows after riveting jousts on Roland Garros clay and the grass of Wimbledon.
Top seed Federer, 25, seeks his third consecutive US Open title and ninth major victory of his career.
Nadal, 20, winner of the last two French Opens, has been the only player capable of standing up to the Swiss maestro, winning six of eight career meetings, including two of three on hard courts.
Not since the days of John McEnroe and Bjorn Borg, and Agassi's showdowns with Pete Sampras, has the game had such a magnetic duel.
Contrasting styles enhance the rivalry with the dazzling arsenal of spin and power employed by Federer pitted against the thundering groundstrokes and fitness of Nadal.
Federer has lost four times this year to Nadal, including the final of the French Open. The Spaniard has established himself as a road block to the Swiss champion's dream of completing a career Grand Slam.
Nadal also showed he was able to challenge Federer beyond the red clay in Paris by reaching the Wimbledon final before losing to the Swiss in the final.
Photograph: Getty Images