Home > Sports > Tennis > Report


Sweden needs a Sania: Wilander

Onkar Singh in New Delhi | September 22, 2005 13:59 IST



Sweden's former Grand Slam champion Mats Wilander paid tribute to the Indian tennis sensation Sania Mirza saying that his country also needs a player like her to get more women interested in the game.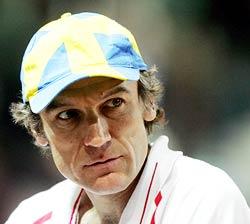 Wilander, the non-playing captain of the Swedish Davis Cup team in India for a World Group Play-Off tie commencing on Friday, was impressed with Sania's powerful grounstrokes and said she could only get better from here.
"India has this young sensational player who is playing amazing tennis in last one year or so. We in Sweden definitely need a Sania to motivate young women to take to tennis the way she has inspired Indian women, who are now seen holding tennis raquets," Sweden's youngest Grand Slam winner told rediff.com at the Delhi Lawn Tennis Associations grounds.
"I have seen her in action at Wimbledon. She is aleady a good player on the tennis circuit and has potential to do even better. The more she works on her tennis the better it would be for her. She is playing amazing tennis."
Wilander conceded that he had not seen Sania until she broke into the top-100 but followed her progress in the Grand Slams.
"I did see her playing against Sharapova (third round of the US Open). She has as good shots as the Russian. She has got to improve her serve a bit and improve upon her low level shots. Her high level shots are good enough but improvement can always be made.
"She plays very well and she should be able to face the top women tennis players in days to come and hopefully register some good wins as well. She has to invite the other players to make mistakes and that is what she is trying to do now," the 41-year-old added.
Wilander, part of three Davis Cup winning teams, was also the youngest Grand Slam winner when he captured the French title in 1982. He was beaten to the honour by Boris Becker ('85 Wimbledon) and then Michael Chang ('89 French Open).
Inspired by countryman Bjorn Borg, Wilander kept the Swedish flag flying high through the 1980s with eight Grand Slam titles, seven of which came in singles, and was inducted into the tennis Hall of Fame in 2002.
"Borg definitely was a legend. The reason why I am playing tennis is because of Bjorn Borg. I was fascinated by the kind of tennis he played and the way he went on the win five Wimbledon titles in a row. He turned around the tennis scene in Sweden single handedly and it became a big sport."
Impressed with the depth of talent in men's tennis currently, Wilander said the first hundred were capable of beating each other.
He came to India as a part of Davis Cup team to play against India in Bangalore but never participated in a tournament.
"I am not sure if there were tournaments in India during my time," he said.
About the upcoming tie against India, Wilander said that he had not played against India's doubles players Leander Paes and Mahesh Bhupathi but hoped that his team would do well in the humid conditions in New Delhi.
Leander, captain of the Indian side, said that his team would play competitive tennis.
"You know when I go out and play for India I wear my heart on my sleeve. We are going to do our best."