Home > Sports > Hockey > PTI > Report


Jugraj set for international return

Abhaya Srivastava | September 06, 2005 16:40 IST



Having fought his way back into national reckoning from a near-fatal injury, Jugraj Singh will make his much awaited comeback to international hockey next month when he dons the India colours in an away Test series against South Africa.

This would be the first international outing for the ace drag flicker since September 2003 when the player met with a road accident in his hometown, Jalandhar.

"There has been a lot of improvement in my game and I think I am ready for international competition. I would turn out for the team against South Africa," the Punjab Police player said in an interview in Delhi on Tuesday.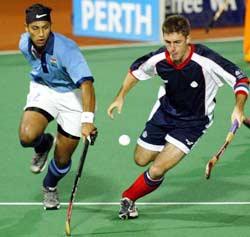 Jugraj, currently training in a camp along with the India juniors, under coach Harendra Singh, said he enjoys full backing from the coach and the team, and is ready for the rigours of international hockey.
The penalty-corner expert who made a sensational debut in the Junior World Cup in Hobart in 2002 emerging as the second highest goal scorer of the tournament, also said he would return in his previous 'avataar' -- that of a daredevil, unafraid to run into any opposition.
"People will see the same Jugraj. When I am on the ground I like to play attacking hockey and this is one of the reasons I did not want to rush my comeback. I wanted to give my 100 per cent and play the same aggressive brand of hockey, which I used to before meeting with the accident.
"This series will help me to build up my confidence as I have been out of the national squad for so long."
Jugraj's daring rushes and penchant for taking blows on his body without any fear was one of the aspects that intimidated his opponents, forcing them to devise new strategies to foil the Indian.
Harendra Singh, on his part, said Jugraj's determination to play hockey and just that is paramount.
"It does not matter to him whether he is playing with juniors or seniors; he just wants to play the game, such is his passion. I will back him to the hilt and give him the chance so that he can claw back into the national squad."
Although Jugraj would figure in the junior team for the South Africa series, he said it was only apt since he does not want to test himself in a high-pressure series.
"This series would serve as a perfect testing ground for me; I will come to know exactly where I stand. It is not a big tournament and it will allow me to play without any pressures," said the 22-year-old.
Asked if it would be tough for him to break into the senior side, he replied, "When I first made it to the team, it was full of big names; if I could break into the national team then, I'm sure I can do it again on the dint of my performances."
He also conceded that he needs to attain an even higher level of fitness, but said the ongoing camp had done wonders in fine-tuning his game.
"I feel there has been a lot of improvement in my fitness since I participated in the camp in Chandigarh six months ago. I am now able to play the entire duration of the match as I did recently in the exhibition match against seniors on Dhyan Chand's birthday."
Jugraj also revealed that his two-month rehabilitation stint in America recently had gone a long way in ensuring he would be able to play the game at the highest level again.
"The doctors there gave me the go-ahead, although they said the metal plates would have to remain."
Jugraj said the team struggled to find a replacement for him as it did not groom a second player.
"We should have groomed Sandeep Singh alongside me. Both of us should have been allowed to practice together so that we could share our styles, which are very different, and improve each other's games.
"This would have given rise to healthy competition for the drag flicker's spot in the team."
On Deedar Singh, another prospective replacement for Jugraj, he said, "He has being given opportunities and must prove his worth now."
ugraj had kind words for the beleaguered Indian team, which he said needs support from all quarters and not just criticism.
He also said he is against dropping of players and coach every now and then.
"It is the same team which was doing so well in 2002-03. The players cannot become worse overnight. Their morale is down as I gathered on chatting with a couple of them, but once they start winning again, things will fall in place."
He also dismissed criticism in certain quarters of captain Dilip Tirkey and coach Rajinder Singh Junior, saying they should be retained till the next World Cup.
"The entire team should rally around Tirkey in these tough times. The coach should also be given a chance to settle down and develop an understanding with the players."
He said the tendency of the team to concede early goals is one of the reasons for the poor show in recent times.
"Once we concede goals in the first 5-10 minutes, we come under pressure. Also, the defenders need to be quicker than the forwards."
© Copyright 2005 PTI. All rights reserved. Republication or redistribution of PTI content, including by framing or similar means, is expressly prohibited without the prior written consent.



What do you think about the story?








Read what others have to say:





Number of User Comments: 1








Sub: Jugrajs return

hi, This is nithin & i am a great fan of hockey. I am a good player also. It's great to hear that Mr Jugraj ...


Posted by nithin thimmaiah






Disclaimer