Home > Sports > Specials


The Rediff Special/Lieutenant Colonel Rajyavardhan Singh Rathore

'What is the incentive to be a sportsman in India?'

September 05, 2005



Ace shooter Rajyavardhan Singh Rathore's silver medal was the only bright spot for India at the 2004 Olympic Games in Athens. India had sent a 78-member squad to the Games in the hope of clinching a few medals, but except for Rathore none delivered.

In an exclusive interview with Special Correspondent Harish Kotian, Rathore, who was conferred the Rajiv Gandhi Khel Ratna last week, attempts to find out what ails Indian sport. Unless there is financial security, he says, why will someone invest his time in sports?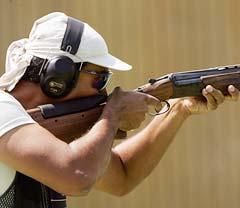 How can we be a top sporting nation? We are not a sporting-loving nation. We are not a nation that has sports in its character, but we should become one. A lot of youngsters will ask how I am saying that.
Yes, we do love sports, but, as youngsters, all children love sports in any case. It all depends when you grow up, how many of you are willing to commit to sports? When I say commit to sports, it does not mean that you spend your entire day on sports.
Australia is a sports-loving country; that's because in the evening people of all ages will be seen on the sports field playing for a couple of hours, and on Saturdays and Sundays they will be seen playing. It's natural for them to get to the playing field. That culture must come to India -- playing for fitness, playing for pleasure, playing for de-stressing yourself, playing for fun, playing for entertainment, playing to bond with each other, playing to win and playing for the country.
Once we start doing these things, India will become a truly sporting country and that's when we will have very good bench strength.
By bench strength I mean having a large number of people to select from. That's how we will get a very good team or good performers in individual sports.
Right now we have only one or two sparks and nobody to challenge them. So how will they be pushed to perform better?
The only push we get is when we have reached a top international standard. That's when we have the foreigners as a threat to us. That's how we practice daily to challenge and win against them. But what about the run-up to reaching the top international level? Who is challenging the one or two bright sparks? No one!
In India sports is not a career. When you are 16 or 17, and when you should be becoming a Boris Becker or someone, you are busy studying for your 12th standard exams or busy trying to get admission into college.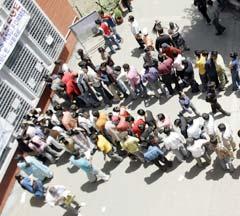 You just go and sit with the books, be surrounded by them, mug them up totally; that's how you will get admission.
There are a lot of young guys who are really very good at sports but can't focus their energy on them unless they have decided that they have given up on studies. And what is the incentive be a sportsman in India?
How many will be offered a good job as a sportsman? Leave aside a job, would they be able to earn a good, decent, healthy living out of playing sports, even if it is for the country?
If you are not into professional sports, like tennis, cricket, golf, then is it just a service that you are doing to the country.
Is the country going to look after you financially? Unless there is financial security, why will someone invest his time in sports?
He will rather invest his time in something from where he can make a career. So that's why, despite being so populated, we are not among the top sporting nations of the world.
Go to the villages, the guy will have some natural ability; but who checks him scientifically for his natural ability when he is eight or nine years old? No one checks him for that. So, therefore, at that time he cannot be given training to hone his skills, to take advantage of that natural ability, like endurance to run long distance or, maybe, jump higher. The guy will even be lucky to go to school or he will be working to earn a living for his family.
We have the potential to be a top sporting nation; we have the capability like no other nation, yet we have these issues to confront. And the biggest of them is the attitudinal change towards sport.
Photographs: AFP/Getty Images
More Specials


What do you think about the story?








Read what others have to say:





Number of User Comments: 20








Sub: other than cricket

I agree with you about evrything, but we have to be sports lover and exclude cricket entirely. Cricket is always fixed. Cricket is just a ...


Posted by schandr7









Sub: Sports lover other than cricket

I agree with you about evrythign but we have to be sports loverand exclude cricket entirely. Cricket is always fixed. Cricket is just a drama ...


Posted by shiv









Sub: Rathore on Sports

On the comments of Lt Col Rathore many people have expressed their views out of which few have been covered in this site. What is ...


Posted by Hanumanth Rao Singam









Sub: Right to the point

Can't be put better.


Posted by Dheeban









Sub: Sports as entertainment ?

Why should govt. keep supporting sportsmen ?? Sportsmen should generate their own income by capitalising on the "entertainment value" of their sports. This attitude of ...


Posted by rrbb






Disclaimer