Home > Sports > Formula One > Reuters > Report


Karthikeyan shows Monaco police his licence to thrill

May 19, 2005 16:39 IST



The 'fastest Indian on four wheels', Formula One driver Narain Karthikeyan, got into trouble on two wheels in Monaco on Wednesday.

The 28-year-old was pulled over by police after doing a lap of the Mediterranean principality's street circuit on a scooter at a time when parts of the track were closed to traffic.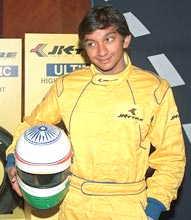 "The cops are not very happy," grinned the Jordan driver after returning to the paddock. "They wanted my licence so I gave them my Indian racing licence."
A household name in India as the country's first Formula One driver, but as yet an unknown in Monaco, Karthikeyan escaped with a warning: "They said 'Okay, please next time try and respect the rules or whatever'."
The incident will be the least of Karthikeyan's worries on what promises to be a daunting Monaco debut for the Madras-born racer.
He had not set foot in the principality until this week.
"I've seen it (the layout) on TV for so many years so you really know where it's going...but it's the finer points. The hill looks much steeper than on TV," Karthikeyan said of the circuit.
STREET CIRCUITS
"It's going to be hard for sure, for a first-timer in Formula One it's not easy. But I go well on street circuits normally, in Macau and Korea in Formula Three.
"Tomorrow I won't push much, just learn the circuit, and then give it the big one on Saturday. It should be okay."
The Indian said he had talked to Colombian Juan Pablo Montoya, who won the glamour race for Williams in 2003 and is now with McLaren, for advice.
Some drivers, Montoya included, use computer games to learn a new layout but Karthikeyan said he had never done that.
"I never do. I think you can learn a lot more from on-board footage," he said. "It's the real thing."
Jordan, now owned by Russian-born Canadian billionaire Alex Shnaider, have yet to score a point in five races but Karthikeyan has acquitted himself well with an 11th place in Malaysia his best result.
While many of the other drivers are Monaco residents, joining a crowd of millionaire tax exiles, Karthikeyan lives near his team's Silverstone factory in rural England.
He will not be moving south in a hurry.
"Silverstone is better. It's too busy here I think," Karthikeyan said.
"It's great for a couple of days, like the grand prix weekend. Otherwise it's a bit like Hong Kong, too crowded.
"When I start earning big money then I'll think about it."
© Copyright 2005 Reuters Limited. All rights reserved. Republication or redistribution of Reuters content, including by framing or similar means, is expressly prohibited without the prior written consent of Reuters. Reuters shall not be liable for any errors or delays in the content, or for any actions taken in reliance thereon.

Formula One: The Complete Coverage