Home > Sports > Formula One > PTI > Report


'I have been the best rookie so far'

March 22, 2005 19:04 IST



Having already gone through the toughest race of the Formula One season, Narain Karthikeyan is looking forward to his next challenge, the Bahrain Grand Prix, where the Indian is hoping to continue his "great" show.

"I have already two great races in the F1 Championship. It was thought to be impossible and I made it possible. It gave me much confidence after finishing the toughest race -- the Malaysian Grand Prix. Now I am looking forward to other races," Karthikeyan told reporters in New Delhi on Tuesday.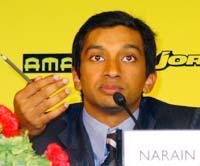 The 28-year-old made his F1 debut in Melbourne where he finished 15th and bettered his position at Sepang, with a creditable 11th. The Bahrain GP, the next race on the F1 calendar, is on April 3.
Karthikeyan, who was on his maiden trip home since joining the F1 circuit, said although his aim is to finish races, now he is also thinking about collecting points as the season progresses.
"The Bahrain track is quite similar to Sepang as it is quite challenging and flowing. Right now we are concentrating on finishing races. But there will be some races where we have the opportunity to score points," the Jordan driver said.
"Now we are doing exceedingly well. And we are hoping to continue in the same way in the remainder of the season. Good news is that we are already past the toughest one and some of the good circuits are coming up, like Monza, Magny-Cours, Barcelona and Silverstone.
"I had been there before and hopefully my prior experience will come handy."
Karthikeyan said he had a tough time in Sepang, where the park temperature rose to 50 degree, but is hoping that things would be better in Bahrain.
"The weather is quite similar to that of Delhi and its not humid there, though the circuit is bit abrasive. Maybe, it's because of so many sand dunes," said Karthikeyan, who spent a couple of days there after the Malaysian race before coming to New Delhi.
| | |
| --- | --- |
| | Also Read |
| | |
"We will run a similar kind of car though with a different type of tyres," he said.

During his short stint in F1, Karthikeyan has so far impressed several drivers including seven-time world champion Michael Schumacher of Ferrari.

The Ferrari ace had spoken high of the Indian after the race in Melbourne.

"Lot of drivers were impressed with my qualifying lap in Melbourne. Even Mark Webber said he knew me since long. The start could not have been any better. I have been the best rookie so far."

The Indian said he and his Jordan partner Tiago Monteiro, another first timer in F1, have already struck a rapport with the Jordan team.

"We both are rookies and try to help each other out. Jordan is a great team for rookies, Michael Schumacher, Rubens Barrichello all started their career from Jordan. Ours is a small team, so you can interact with all and hold one to one discussions."

Karthikeyan said he had been lucky so far and hoped to do well in future. He also said that his joining F1 augured well for the country and the game had a brighter future in India.

"I am happy to be in F1. Good to see corporates and companies coming up to support the game. The future of the sport is bright in India."

Karthikeyan also said "the recent rule changes have spiced up the sport, especially the new qualifying format."

Karthikeyan's sponsors J K Tyres, who had made the arrangement for the racer's visit to India, chose the occasion to launch Karun Chandhok in this year's World Series.

The 21-year-old has signed up with RC Motor Sport to contest the 2005 World Series.

Photograph: Dijeswar Singh/Saab Press

© Copyright 2005 PTI. All rights reserved. Republication or redistribution of PTI content, including by framing or similar means, is expressly prohibited without the prior written consent.


Formula One: The Complete Coverage