Home > Sports > Formula One > AGENCIES > Report


Narain takes tips from Tendulkar

March 17, 2005 17:11 IST
Last Updated: March 17, 2005 17:32 IST



Narain Karthikeyan, India's first Formula One driver, has been taking tips from cricket great Sachin Tendulkar in how to deal with pressure.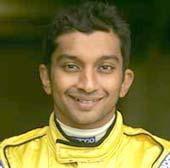 Karthikeyan finished 15th on his debut for Jordan at the season-opening race in Melbourne earlier this month and credited Indian batsman Tendulkar for helping him keep his feet on the ground.
"Sachin Tendulkar is a very big fan of Formula One and I'm good friends with him," Karthikeyan said on Thursday. "He has a lot more people watching him so he knows what it's like. He is clearly happy for me.
"Sachin has given me advice. He told me just to concentrate on the job and not be bothered what happens in India... just do the best I can and what happens, happens."
The Madras-based Karthikeyan realised a lifetime's dream by racing in Australia and will to be firm crowd favourite at this weekend's Malaysian Grand Prix in Sepang.
"It's about three hours from Madras," he said. "There is a big Indian community here and (the race has) been promoted a lot in India so we expect quite a few people coming here."
Narain flew directly from Melbourne to Kuala Lumpur to allow plenty of time to acclimatise to the weather.
"To me, travelling to Malaysia is like coming to a very special place. Amongst the multi-national population there are lots of Indians who speak Tamil even if the national language of Malaysia is Bahasa Malaysia, and I feel at home. I know the country well as I have raced before in the Junior Formula Asia on the Shah Alam track near Selangor where we used to compete and I have kept lots of excellent friends."
Having a Grand Prix in Malaysia since 1999 has raised the level of awareness for Formula One and racing in general. On occasion of the 7th Petronas Malaysian GP, for the third year running, there was a Classic and Vintage Car rally organised at Dataran Merdeka last Sunday.
It was a parade with over 150 Malaysian origin vintage cars in top conditions dashing in the streets.
"Even if I have not raced on the track before, I know that the Sepang International Circuit site is a good circuit, but it's quite difficult. It's got a lot of interesting corners, both high-speed and low-speed, and it's quite long.
"This [seven-year-old] circuit is high speed and at the same time, it looks really technical and challenging for a driver. At least this is what I guessed from seeing the track from last year's on-board footage film," Narain said.
"I'm sure that the challenge will make me enjoy driving around the track despite the high temperature," he said.
"The engineers have also analysed last week's race and have a lot of data to pass on to me for a better race this time round. We've got a lot of work to do especially because the conditions will be different than in Australia.
"My trainer Gerard came along with me and we worked for four intensive hours every day on the cardio-ratio rhythm, and on building up my neck muscles to absorb the G-forces in the F1 car and to also acclimatise to the humidity and heat-stress factors."
In his debut GP, Karthikeyan started ahead of seven-times world champion Michael Schumacher on the grid in Melbourne but lost six places on the opening lap and failed to overtake anyone.
"The Indian media has explained to the public that I am not capable of winning races at the moment," said the 28-year-old.
"I have also told them we have realistic goals, which is first to finish races and in the few races we can we will pick up points.
"There are a lot of eyes watching me but that's always been the case. Now it's on a little bit bigger scale. I've dealt with it okay so far."
Karthikeyan's goals are understandably modest for Sunday's race in steamy Sepang -- for him and Portuguese team mate Tiago Monteiro to finish again.
"We have two rookie drivers so the aim is always to finish," he said. "It's a steep learning curve."
Karthikeyan could be more popular in India than Schumacher himself but he knows his place in the Formula One firmament.
"It's a dream come true. In India from a very young age, I looked up to Schumacher and suddenly now I'm racing with him," he said.
"But the people don't expect me to go and beat Schumacher."
AGENCIES
Formula One: The Complete Coverage


What do you think about the story?








Read what others have to say:





Number of User Comments: 6








Sub: Bucknor's Anti India Bias

Ajit Agarkar had got Justin Langer lbw twice, with balls that pitched on leg, straightened and were hitting middle stump. Both were plumb, but both ...


Posted by atul









Sub: wrong info

the article is gud but the author u make sure that u always give a correct info,if u donno a particular info pls leave it.(for ...


Posted by karthikeyan









Sub: get ur facts right!!!

For your kind information, narain is not madras based,he is coimbatore based.get your facts right boss!


Posted by ravi









Sub: narain is not from madras ,chennai but from coimbatore

hey narain karthikeyan is not from madras ,chennai but from coimbatore .Would rediff people get the basic infomation right please???


Posted by anamika









Sub: People at the pinnacle of sport

I read somewhere that Tiger Woods took the assistance of Michael Jordan on how to cope with the pressures of being at the pinnacle of ...


Posted by Anand Sharma






Disclaimer