Home > Sports > Formula One > Reuters > Report


Watch out for Alonso!

Alan Baldwin | March 11, 2005 16:21 IST



Giancarlo Fisichella deserves all the accolades that come with being the first Italian in 20 years to lead the Formula One world championship.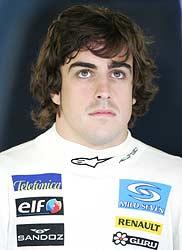 That said, the Roman would be wise to watch out for Renault team mate Fernando Alonso when the action resumes in Malaysia next week.
While Fisichella was a worthy winner in Sunday's weather-influenced Australian season-opener, cruising from pole to chequered flag, the Spaniard's performance in Melbourne was pure dynamite.
Alonso's red-blooded charge through traffic from 13th to third place was the more impressive performance in the circumstances.
"It was brilliantly aggressive," said Renault's head of engineering and chief strategist Pat Symonds. "There were four clear overtaking moves and that's normally impossible around Melbourne.
"He was the driver of the day. Giancarlo didn't need to be, he was so far ahead."
Alonso might have finished second had he not been held up for lap after lap by the Sauber of Canadian Jacques Villeneuve, the 1997 champion who was a pale shadow of his former self.
Malaysia, where Alonso became Formula One's youngest pole-setter in 2003 before going on to win in Hungary, could be quite a battle between the Renault men even if McLaren or Ferrari prove stronger on the day.
EARLY MARKER
It was important for Fisichella to put down an early marker against Alonso because he is the man he will be measured against over all others.
The 23-year-old Spaniard is a Renault favourite, managed by team principal Flavio Briatore and carefully nurtured since his 2001 debut as a promising teenager with Minardi.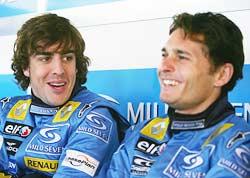 While the French team have no doubts about Alonso's potential, seeing him as the heir to Ferrari's seven times champion Michael Schumacher, the same could not be said of Fisichella.
Briatore warned last year, after Fisichella signed from Sauber, that 2005 could be make or break.
"You see a lot of drivers with fantastic talent -- Jean Alesi was like that -- but they never develop it," the Italian said in October. "I think Fisichella still has the chance to do that and I think he understands he must, because it's the last ditch for him, isn't it?
"If he misses this train, in three years nobody will remember him because he's done nothing. Absolutely nothing."
That may sound harsh for a driver who has only once in his career been bettered by a team mate, Austrian Alex Wurz scoring one point more than Fisichella when they were paired at Benetton in 1998.
Yet Briatore had a point. Until Sunday, Fisichella's sole victory was a fluke win in Brazil in 2003 when the race was stopped shortly after he had taken the lead.
He is a supremely talented driver, one of the quickest and smoothest, but there have been doubts about his mental strength in adversity in a career that has seen plenty of wrong moves.
"The biggest problem with Fisi is when he qualifies 10th, that's when I worry about him," said former boss Eddie Jordan this week.
Sunday's flawless performance, making him the first Italian to top the standings since the late Ferrari ace Michele Alboreto in 1985, could be a watershed however.
As Fisichella said on Sunday, the situation is very different now. He has his head up and it is unlikely to go down again in a hurry.
"It is the first time in my life that I drive a car with a lot of potential, a good car which has been quick and consistent from the beginning to [the] end," he said.
Fisichella can also expect equal treatment. Unlike Ferrari, where seven times champion Michael Schumacher is the clear number one, the Renault men have been given clear instructions to race each other.
"I think the demands from our audience are very simple; people want one thing and that is to see a good race," said Briatore at the weekend.
"Our basic job is to make a car, organise races and then produce a championship where the drivers can overtake, fight each other and compete for the title until the last races.
"And it doesn't matter that those drivers are from the same team if they are allowed to fight each other."
On the evidence of last weekend, it could be some battle.
© Copyright 2005 Reuters Limited. All rights reserved. Republication or redistribution of Reuters content, including by framing or similar means, is expressly prohibited without the prior written consent of Reuters. Reuters shall not be liable for any errors or delays in the content, or for any actions taken in reliance thereon.

Formula One: The Complete Coverage