Home > Sports > Formula One > Reuters > Report


Narain bowled over by fans

Alan Baldwin | March 07, 2005 10:26 IST



Narain Karthikeyan achieved a lifetime's ambition in Australia on Sunday as the first Indian to compete in Formula One. Now he has another target.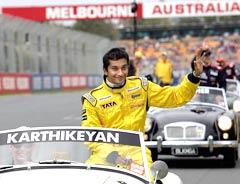 "I've just got to do a good job and stay on in Formula One for as long as I can," he said after bringing his Jordan home in 15th place. "My dream was to compete in Formula One. I've done that and now it is to score points."
Karthikeyan's debut was never going to trouble the likes of Ferrari's Michael Schumacher, even if the Indian suspects he may now be more popular in his home country than the seven-times world champion.
While starting well ahead of Schumacher, he lost six places at the start and did not pass another car on the track.
"I was excited. It was a bit like the Macau grand prix," he said. "That was the biggest race I've done with all the hoopla going on. But when you start the race it's like any other race -- you just concentrate and do the best you can.
"I made a bad start unfortunately and got stuck behind [Portuguese team mate Tiago] Monteiro but after the second stint I think we did a good job."
CHANTING CROWD
A chanting crowd of supporters, their faces pressed against the wire mesh fence in a desperate attempt to attract his attention, were happy anyway and kept their hero busy long after the race with endless autograph requests.
"Obviously, I really have a lot of supporters. I'm really happy and proud. Now I've learnt what it is to finish a grand prix," said Karthikeyan.
"I didn't expect so many supporters, there were maybe five or six hundred of them.
"It's great to have Indians behind me and so on but I just did my job today, got the car to the finish," said the driver, limping from a sore foot after the unfamiliar strain of left foot braking over a race distance.
"The seat was a little bit bad and my shoulders are hurting as well but I am so happy to finish," he said.
"I had one hairy moment coming in to the pits but I think the second stint was very strong," he added.
"I think we will improve race by race and finish as many as possible. When there is a possibility to score points we must be there to take it."
The next race is Malaysia and Karthikeyan can expect an even noisier reception from what could be an army of supporters.
"Malaysia is probably my home grand prix because it's only two hours from India and there are going to be a lot of supporters," he smiled. "I'm just so thrilled that they are also following racing in a big way in India now."
Team owner Alex Shnaider was also happy.
"He's a quick driver, it's his first grand prix so he can only improve from here," he said.
"And also you see how popular he is. I am very pleased."
© Copyright 2005 Reuters Limited. All rights reserved. Republication or redistribution of Reuters content, including by framing or similar means, is expressly prohibited without the prior written consent of Reuters. Reuters shall not be liable for any errors or delays in the content, or for any actions taken in reliance thereon.

Formula One: The Complete Coverage


What do you think about the story?








Read what others have to say:





Number of User Comments: 4








Sub: Hi Naren

Welcome and congrats to first person representing F1 for India and achieved a position in F1. We, people of India blessings with you always and ...


Posted by Ranjit









Sub: Wish you all the best

Hi, I am proud of u . Every one of us are proud infact. You made us feel on cloud nine. We wish you many ...


Posted by Ravi Kanth.Nanduri









Sub: Waiting to catch u in Bahrian

Congrats, mate...you rally did us Indians proud, i remember right form the day u did ur first F1 tests me n my friends in college ...


Posted by Alton Pinto









Sub: Congratulations - Narain

Hi, I am proud of u . Every one of us are proud infact. You made us feel on cloud nine. We wish you many ...


Posted by divakar






Disclaimer