Home > Sports > Formula One > Reuters > Report


Karthikeyan looks forward to leading Schumacher

Alan Baldwin in Melbourne | March 05, 2005 17:01 IST



Narain Karthikeyan never dreamed of leading seven times world champion Michael Schumacher in his very first Grand Prix.

Yet that is on the cards in Sunday's Australian season-opener, unless he suffers a bitter blow in final qualifying, after the Melbourne weather played into his hands on Saturday and rained on Schumacher's hopes.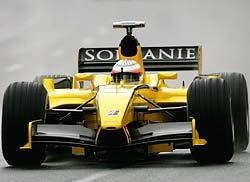 India's first Grand Prix driver put his Jordan ninth on the provisional grid in a first qualifying session turned into a lottery by a sudden downpour.
He was the highest-placed runner on Bridgestone tyres and his time was 13.5 seconds faster than Ferrari's Schumacher, who was 18th after his prospects were wrecked by heavy rain just before his warm-up lap.
The grid will be decided by aggregate times after Sunday's final qualifying.
"On paper it looks nice," Karthikeyan said of the prospect of being ahead of Schumacher, even if the lead proves short-lived.
"It's not what I expected but I'll do my job," he said. "He's going to be a lot faster than us for sure and he can find a way around me.
"Maybe he will be on a different strategy and the Ferrari is a lot quicker on the straight than us as well," he added. "He knows what to do for sure, he's a great guy."
GREAT FEELING
Karthikeyan has long been an admirer of the German, who also started his career with Jordan in 1991, and has spoken to him several times already on his first weekend in the paddock.
| | |
| --- | --- |
| | Also Read |
| | |
"I looked up to him before I came in Formula One, he was one of my heroes, and now racing against him is just a great feeling," he said.

The 28-year-old, one of four rookies making their debuts on Sunday, had a ragged drive around the Albert Park circuit on a drying track.

"I'm a little bit tired. I think it's more mental stress than anything else," he said.

"Today was a bit hard because you are thinking about the race and also I have still not got over the jet lag from England.

"I have been waking up at five o'clock but nevertheless it's been a very enjoyable day today. A bit tricky conditions but it all came together and I'm happy to have done a decent job.

"I try and push a lot," he added.

"I put a lot of pressure in myself because that's the way I am. India has been watching me for a long time, for years now, but now it is on a much bigger scale.

"I'm used to it so I think that won't affect me much."

A huge Indian audience is expected to tune in for Sunday's race and Karthikeyan admitted he could not get that thought out of his head:

"On my slowing down lap I could see myself on the big TV screen and I thought to myself in India it must be eight in the morning and everybody will have been watching and it felt good."

He warned against false hopes though.

"In every interview I have been saying that we have realistic goals and we are not up to speed yet ... at the moment to be honest, we can only beat the Minardis unless we get some more development parts."

© Copyright 2005 Reuters Limited. All rights reserved. Republication or redistribution of Reuters content, including by framing or similar means, is expressly prohibited without the prior written consent of Reuters. Reuters shall not be liable for any errors or delays in the content, or for any actions taken in reliance thereon.


Formula One: The Complete Coverage



What do you think about the story?








Read what others have to say:





Number of User Comments: 1








Sub: high time we did something......

hey guys dont you think narain deserves something more........ cant we do something to cheer him up ,send him best wishes from whole of india ...


Posted by anamika






Disclaimer