Home > Sports > Formula One > Reuters > Report


Schumacher's 'wonder-guru' to retire

June 02, 2005 20:15 IST



Even if Michael Schumacher is not thinking of retiring, the world champion's 'wonder guru' has had enough.

Balbir Singh, the Indian-born physiotherapist who has been at the German's side for the past 10 years and throughout his Ferrari career, wants to spend more time with his family and will step down at the end of the season.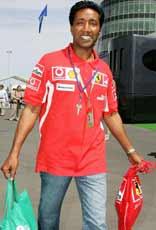 "Balbir is one of the few men that I could and can trust 150 percent," the seven times champion told Germany's Bild newspaper on Thursday.
"The split will hurt me. I will miss him. I must simply accept that he wants to build a new future," added Schumacher, 36, who insisted earlier this week that he was not thinking of quitting despite his poor start to the season.
The Ferrari driver's spokeswoman said the two would remain close friends.
"He is one of the closest people to Michael," she said. "It's been 10 years now and at one point he just said I have to care about my family more."
Dubbed Schumacher's 'wonder-guru' by Bild, Singh's behind-the-scenes role has been far more than massaging away the aches and pains of racing. He also keeps an eye on what the driver eats, calms him down and acts as a confidant.
"He has something in his hands that no-one else has," said Schumacher, a distant eighth in the championship with just 16 points after seven races.
© Copyright 2005 Reuters Limited. All rights reserved. Republication or redistribution of Reuters content, including by framing or similar means, is expressly prohibited without the prior written consent of Reuters. Reuters shall not be liable for any errors or delays in the content, or for any actions taken in reliance thereon.

Formula One: The Complete Coverage


What do you think about the story?








Read what others have to say:





Number of User Comments: 2








Sub: Narain in Ferrari?

I don't think that narain can join ferrari. How can he join the champion team with this performance? Next year he will be able to ...


Posted by Harikrishnan









Sub: i2i changes

balbir singh is to retire from ferrari & assist to narian karthikeyan of jordan team. or else narian has to join ferrari to get more ...


Posted by sundipbk






Disclaimer