Home > Sports > Column > Alan Baldwin


McLaren looking for Formula Fun

February 22, 2005



Instead of being bitter rivals, McLaren's Kimi Raikkonen and Juan Pablo Montoya could be laughing all the way to the chequered flag this season.

Team boss Ron Dennis feels they can benefit from the sort of practical jokes that lit up the late Brazilian world champion Ayrton Senna's partnership with Austrian Gerhard Berger at McLaren in the early 1990s.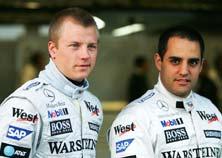 "Humour used in the right way can be a great tension breaker," said the man whose team have won more Formula One titles than anyone except Ferrari. "It's going to be a deliberate weapon in our arsenal."
McLaren are revving up for the season starting in Australia on March 6 with fresh confidence resulting from quick times in testing and one of the strongest line-ups in the pit lane following Montoya's move from Williams.
After some years with an ill-deserved reputation for corporate greyness, the Mercedes-backed team's new 'fire and ice' pairing promises plenty of thrills with the added spice of a full-on personality clash.
Yet despite obviously different natures, the taciturn Finnish 'Ice Man' seems to be hitting it off with the volatile Colombian.
"There is a lot of smiling going on and good humour between them and that is something that we will definitely be fostering," said Dennis.
"We're not going to be putting it on public display but I will be reintroducing the concept of practical jokes into the team. I'm lining up a few."
DISAPPEARING BRIEFCASE
Montoya has already shown that he is a natural prankster, demonstrating a playful streak at Williams, while Raikkonen has shown his wild side in recent well-chronicled nightclub excursions.
They will have a job to match the often outrageous goings-on of Senna's day however.
Berger tossed the Brazilian's briefcase out of a helicopter over Monza, filled his hotel bed with frogs and replaced Senna's passport photograph with, in Dennis's words, "an equivalent-sized piece of male genitalia".
The passport prank resulted in the three-times world champion being detained overnight in Argentina by immigration officials who failed to see the funny side.
Such humour has not been so easy in the recent past, with Raikkonen and his previous partner Briton David Coulthard on different wavelengths.
"David and Kimi are so opposite, so incredibly opposite, that what one would find funny the other wouldn't," said Dennis. "Both David and Kimi have a great sense of humour but they laugh at different things.
"David's was very correct and very English.
"If the joke required reference to a sexual component you'd almost guarantee he'd blush as he was telling the joke whereas Kimi would find a more slapstick humour his thing because it's easier to buy into and understand.
"I think both of these guys [Raikkonen and Montoya] are definitely going to laugh at the same things," he said.
BITTER RIVALRY
Practical jokes serve a serious purpose in defusing what is otherwise a deeply competitive and potentially fraught relationship, particularly if both drivers are title rivals.
Memories remain vivid of the bitter rivalry between Senna and France's four-times champion Alain Prost when they were McLaren team mates in 1988 and 1989.
The sparks from that feud provided some of the most intense and controversial races of the modern era, with Senna deliberately ramming Prost off the track in the 1990 title-decider at Suzuka after feeling cheated of the championship in 1989.
"The cultural differences between Senna and Prost and their characters were significantly greater than those between Kimi and Juan Pablo," said Dennis.
"I do not envisage having the same sort of problems.
"The other big difference is that I am quite a bit older and that gives me a bit of an edge."
Dennis has already made sure Raikkonen knows what the team expect of him off the track as well as on it while Montoya has thrown himself into a new fitness regime, losing six kilos over the European winter.
"He's fitter, his eyes are brighter, you can see that he's got a far more focused approach," said Dennis.
"They have phenomenal car control, both of them. There is an intuitive approach to their racing. They are both slightly different in how they get there, both fearless.
"Kimi through his somewhat quieter, introvert approach is a much cooler guy and less volatile than Juan Pablo.
"But I don't think Juan Pablo is going to be as volatile as he's been in the past because I think he'll understand that's not a constructive way forward.
"Overall, I think they are going to work exceptionally well together."
© Copyright 2004 Reuters Limited. All rights reserved. Republication or redistribution of Reuters content, including by framing or similar means, is expressly prohibited without the prior written consent of Reuters. Reuters shall not be liable for any errors or delays in the content, or for any actions taken in reliance thereon.



What do you think about the story?








Read what others have to say:





Number of User Comments: 3








Sub: mclaren team

The is certainly looking in great form and are loking to win the Constructors champioonship Even the drivers Kimi and Montoya have struck a fantastic ...


Posted by TUSHAR DEVADIGA









Sub: they r GOD

I think Alonso doesn't deserve the TITLE..According, to me its KIMI & Mc laren... Montoyo is just another guy...who is all on spot b'coz of ...


Posted by Siddhi Shinde









Sub: ICE & FIRE

This pair of mclaren driver can make history.....


Posted by Mandip






Disclaimer