Home > Sports > News > Reuters > Report


Interview - Jeev Milkha Singh

Kunal Pradhan | February 16, 2005 17:45 IST



Jeev Milkha Singh once played the lead role in Indian golf but has now been relegated to cameos.

The 33-year-old won four Asian titles between 1996 and 1999 and became the first Indian to qualify for the European tour, but it has been five years since he won a tournament.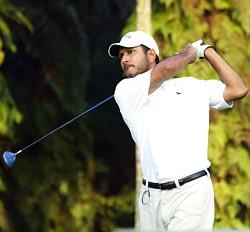 Jeev, who began this season with another agonising second place in Okinawa in Japan, told Reuters on the eve of the Malaysian Open in Kuala Lumpur on Wednesday that he felt a victory is just around the corner.
"The way I'm playing right now, I feel I'm very close. Rather than pushing myself too hard and thinking about it all the time, I just have to let it happen," he said.
"Golf is like a roller-coaster. You have to back yourself every week, every shot. It's all in the mind."
He has set himself big targets for 2005.
Jeev wants to end his win drought on the Japanese tour and then enter the US PGA tour through qualifying school, which he went to in 2002 and got on the second-rung Nationwide circuit.
"I won't play the Nationwide even if I get in. This time, it'll be the PGA tour or nothing," he said.
For now, though, the title jinx remains.
In Okinawa in December, Jeev was leading by four shots going into the final day but had a two-over-par 73, including a bogey on the last hole, as Japan's Kiyoshi Miyazato won by one stroke.
GETTING DESPERATE
"The only thing that went against me there was I was too aggressive. When you haven't won for a long time, you just tend to get desperate," he said.
The son of athlete Milkha Singh, who missed the 400 metres bronze by a tenth of a second in the 1960 Rome Olympics, Jeev followed his father to the golf course as a young boy.
He was successful early on the national circuit and became the first Indian to make the transition to the Asian tour, which he took by storm in 1996 when firing a tour record 26-under-par to win the Philip Morris Asia Cup in Korea.
He finished second on the Asian money list in 1997 and experts said he was destined for bigger things.
Pegged back by a wrist injury in 2000, however, Jeev could not build on his early success.
Some critics said he got consumed with technique.
"I was caught up with my driver. Honestly, I don't think it was a bad thing. I need to work harder on it. The most important thing is to start well off the tee, especially under pressure."
His best European tour results were second and third place finishes in consecutive weeks in South Africa in early 1999.
Meanwhile compatriot Arjun Atwal, who plays on the US tour, has already won two European titles and Jyoti Randhawa, a former Asian Order of Merit winner, finished joint 27th in last year's British Open.
But Jeev says he does not feel left behind.
"I want to be the best, the competition eggs me on," he said.
"If you fall off the horse, you just have to get up and ride it again. You never forget how to ride a horse, and you never forget how great winning feels."
© Copyright 2005 Reuters Limited. All rights reserved. Republication or redistribution of Reuters content, including by framing or similar means, is expressly prohibited without the prior written consent of Reuters. Reuters shall not be liable for any errors or delays in the content, or for any actions taken in reliance thereon.