Home > Sports > Formula One > Report


Momentous day for me: Narain

Ashish Magotra | February 01, 2005 17:45 IST
Last Updated: February 01, 2005 22:14 IST



Indian racing ace Narain Karthikeyan has reached an agreement in principle with Jordan to drive with their Formula One team for the 2005 season. The agreement will be finalized in the next few days.

An elated Karthikeyan told newspersons on Tuesday: "It is a momentous day for me. It has been a long journey. After a successful last year at the Nissan World Series, today I am able to see my dream of being the first Indian driver to secure a Formula One berth become a reality.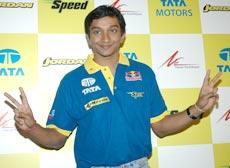 "I must also take the opportunity to thank the Tata group, who were the first to support me during the World Series."
The 28-year-old Chennai-born driver's campaign will be backed by Tata motors and BPCL, who will both initially have their logos on the car by virtue of being his sponsors.
But before he lines-up for the season opener in Melbourne, on March 6, he has to obtain the Super license that's needed to race in Formula One. Getting it won't be a problem, he said.
"The super license is the most important thing right now. I've done well in other races but I still have to do about 300 kilometres; over the next few weeks to get it."
Karthikeyan will be the first Indian in motor racing history to take part in the F1 Championship.
Over the last three years he has test-driven for Jordan, Jaguar and Minardi.
In 2003 Minardi offered him a drive, but he was unable to raise the huge sponsorship money required to secure the offer.
Talking about his chances, Karthikeyan, who drives in the World Series Championship, was optimistic.
"I've raced with drivers such as Jenson Button and [Takuma] Sato before, and I've beaten them on my day," he said. "They're doing pretty well in Formula One, so that gives me confidence that I too can compete."
Factfile on Narain Karthikeyan:
Nationality: Indian
Age: 28
Born: January 14, 1977, Chennai
Son of G.R. Karthikeyan, a former Indian rally champion
1996 - Formula Asia champion, first Indian to win the title
1997 - Sixth overall in British Formula Opel Championship, including first place from pole at Donington Park
1998 - Two third-place finishes out of eight Formula Three races, at Spa-Francorchamps and Silverstone.
1999 - Sixth overall in British Formula Three championship with five podium finishes and two wins at Brands Hatch.
2000 - Fourth on Formula Three circuit, winning races at Spa and in the Korea F3 Super Prix.
2001 - Test drives for Jaguar, becoming first Indian to drive a Formula One car. Also test-drives for Jordan.
2003 - Test drives for Minardi, gets an offer to drive in the Formula One season but misses out after failing to raise the huge sum of money needed to secure the offer.
2004 - Wins two races in the 2004 Nissan World Series
2005 - Secures drive with Jordan for the 2005 season.
Website: www.narainracing.com
Formula One: The Complete Coverage


What do you think about the story?








Read what others have to say:





Number of User Comments: 4








Sub: All the best wishes for a fast and successful career

make india proud.....narain ...my supoort and wishes as well as from a little group of millions of indians good luck and cheers ... ram ...


Posted by ramkumar









Sub: get set go............bhroom

this is not just a momentus day for narain but for the country too. he becames the first indian to drive in the F1 championship ...


Posted by Ajay Das









Sub: Way to go Narain

Awesome DUDE! Its been a long wait for us but youre there . BEat em all....... All the best!


Posted by Anand Rangaswamy









Sub: Narain's feat

It is a thrilling moment for motor race lovers of India.The likes of Karthikeyan,Sania Mirza and PHL should bring a balanced popularity for sports in ...


Posted by Ramakrishna






Disclaimer