Home > Sports > Hockey > Report


You cannot win if you are inconsistent: Viren

Deepti Patwardhan | December 23, 2005 18:17 IST
Last Updated: December 23, 2005 18:24 IST



Just like his game, there is a method to Viren Rasquinha's responses to media queries.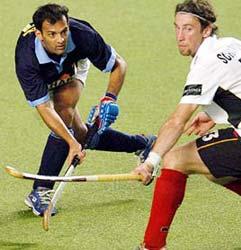 Though India's captain during the Champions Trophy, Gagan Ajit Singh, shurgged off questions about the tournament saying, "What's there to say? You all saw what happended," Rasquinha was forthright and admitted that India was just not good enough.
"We played well in patches. You cannot win a tournament like the Champions Trophy if you are so inconsistent," the Indian mid-fielder said. "It's not just that we have not done well in the Champions Trophy, at the moment we are not playing well in any major tournament."
Gagan Ajit and Rasquinha, along with Arjun Halappa, Rajpal Singh and Devesh Chauhan, were in Mumbai for the launch of the  PHL (Premier Hockey League) album on Thursday.
After finishing fifth in the league stage, India went down 3-4 to Pakistan in the relegation match and finished last, losing out on a berth in next year's edition of the elite six-nation tournament.
Rasquinha refrained from taking any names but said the team as a whole had failed to live up to expectations.
"It would not be right to blame one or two players for the performance. I think as a team we should take collective responsibility for what happened in Chennai. We have let ourselves down and our fans down.
"The centre line and the defenders should learn how to top up and help the forwards when we have possession. Most of the time our forwards were isolated in the tournament. Similarly, even the forwards need to lean back and help the defenders when required."
India, who registered only one win -- over Pakistan -- in the league stage, started off with a 1-2 loss against Spain, but Rasquinha believes it was one of the best games for the team in the tournament.
"I think we did well against Spain. At least we were able to implement our strategy against them; we had planned to counter-attack them aggressively. We made only one mistake, where they got the penalty-stroke and won the match."
After a thrilling 3-2 victory over Pakistan, the hosts were cut down to size by the ruthless Australians. Australia scored three goals in the first 15 minutes to beat India 4-1.
"We were no doubt left shell-shocked by the Australian attack. But Australia is the best team in the world right now; they are phenomenal. No one can touch them right now, even The Netherlands couldn't do much during the final.
"But I think we picked ourselves well after that. We played very well in the last (league) match against the Netherlands."
Gagan Ajit Singh, who was thrust into captaincy after Dilip Tirkey was ruled out at the last minute due to a viral infection, also thought that poor umpiring did Indian in on more than one occasion.
"In the first game they gave a wrong penalty stroke. The Netherlands was also given a penalty-corner in the last minute, because of which we lost the game. So these were crucial mistakes by the umpires."
The stand-in India captain denied media reports that quoted him saying that the players were not listening to him and doing their own thing.
After the Champions debacle, Rasquinha believes that India needs to give serious thought to improve its hockey mentally and well as physically.
"All these intrinsic skills that we have are going to be of no use if were don't improve our fitness, our tactics and even our mental strength."


What do you think about the story?








Read what others have to say:





Number of User Comments: 1








Sub: Well said viren

i think viren was candid and straight when he said we need to improve mental strenght physical skills tactics. See what happened to Australian soccer ...


Posted by Sanju






Disclaimer