Home > Sports > Formula One > Reuters > Report


Wurz to replace Montoya at Imola

Alan Baldwin in London | April 19, 2005 20:33 IST



Austrian Alexander Wurz will stand in for injured Colombian Juan Pablo Montoya at McLaren in Sunday's San Marino Grand Prix, the Formula One team said on Tuesday.

The race will be the 31-year-old's first since the season-ending Malaysian Grand Prix of October 2000, when he drove for Benetton.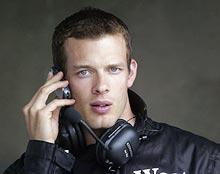 Montoya fractured his shoulder in a sporting accident last month, officially playing tennis although the paddock rumour mill has suggested he was on a motocross bike, and is now expected back at the Spanish Grand Prix in May.
"It is disappointing that Juan Pablo is not yet fully recovered from the injury he sustained to his shoulder...however it is imperative that his shoulder heals properly to ensure no additional risk," said McLaren chief executive Martin Whitmarsh.
"We will assess the situation again next week but at this stage we are optimistic he will return for the Spanish Grand Prix as the shoulder is healing well.
"As Alex is now fully comfortable in the MP4-20, we have taken the decision that he will deputise for Juan Pablo at Imola," he added.
Montoya was replaced by Pedro de la Rosa in Bahrain, the Spaniard finishing a fine fifth in that race, but McLaren had hoped the Colombian would recover in time for the first race of the European season.
He had more tests and scans on Monday but doctors advised it was too soon for him to return.
"The healing process is well advanced but the need to keep the shoulder immobilised has naturally led to some minor muscle atrophy," said a team statement.
TOO TALL
While Wurz is McLaren's official reserve driver, the tall Austrian was not able to substitute for Montoya in Bahrain because of problems fitting into the new car.
"I am really happy to have the opportunity to race MP4-20 this coming weekend at Imola," the Austrian said. "Since joining the team at the end of 2000, I have completed over 70,000 testing kilometres and it will be great to have the chance to actually race a Team McLaren Mercedes car.
"I am looking forward to getting back to competitive action and hope I can secure a good result for the team."
Mercedes motorsport boss Norbert Haug said he is pleased the long-serving Wurz, who has covered more than 1,700 km in the new car since Friday practice in Bahrain, had finally got his chance after more than four years.
"He really deserves this race and he will have our full support," he said.
De la Rosa will revert to his Friday test driver slot for both Imola and Spain on May 8. McLaren said they would review the third car position after the Barcelona race when Wurz and De la Rosa will both be vying for the job.
McLaren, third in the championship after three races, are still chasing their first win of the year.
© Copyright 2005 Reuters Limited. All rights reserved. Republication or redistribution of Reuters content, including by framing or similar means, is expressly prohibited without the prior written consent of Reuters. Reuters shall not be liable for any errors or delays in the content, or for any actions taken in reliance thereon.

Formula One: The Complete Coverage