Home > Sports > Formula One > Reuters > Report


Villeneuve eager for revenge on BAR

Alan Baldwin | September 16, 2004 14:01 IST



Canadian Jacques Villeneuve hopes to take his revenge on former team BAR by helping Renault take second place in the Formula One championship.

"It would be great, just because of the way it (his relationship with BAR) ended," the former champion told reporters on Wednesday after his first drive of a Grand Prix car in almost a year.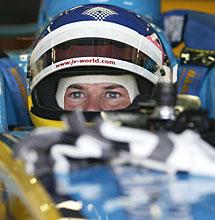 Villeneuve was jettisoned in acrimonious circumstances last year by the Honda-powered team that he helped to found in 1999.
He got back behind the wheel at Silverstone after Renault offered him the chance of replacing departed Italian Jarno Trulli for the last three races of the season.
After that he will join Sauber on a two-year deal.
Renault are three points behind second placed BAR going into the inaugural Chinese Grand Prix next week.
"Renault's goal is just to beat BAR basically, to be second in the constructors'," said Villeneuve.
The Canadian completed 70 laps on Wednesday and clocked a best time of 1:18.776 -- just under a second off Renault's regular Spanish driver Fernando Alonso.
"We didn't work much on the car itself, just concentrated on the seat and stuff like that. It was enjoyable and the lap times are fast compared to when I was racing," he added.
"They are about three seconds faster so it's a lot. Surprisingly, when you are driving it does not feel that much faster because the car is good. It's three seconds a lap more physical, more than anything else."
SERIOUS SAUBER
The definite decision on whether he races in China is likely to be taken on Thursday.
| | |
| --- | --- |
| | Also Read |
| | |
"The only thing is to get settled in, work on the seat, get everything perfect just so that if we do race then there's no worry about that," he said.

Villeneuve said the Renault development had happened very suddenly but he had been talking to Sauber for some time.

"They are the only team that has treated me seriously and with respect, compared to everybody else I have been speaking to since March," he said. "And that made a huge difference.

"I was wanting to get into a non-political team so I am very happy about that.

"It's a two-year deal so there is time to do something good. That doesn't mean we will win races or something, you'll need luck for that but if you can just keep improving and you are happy working then that's great."

Asked whether he had feared he might not get a second chance after being ditched by BAR, the Canadian replied: "I'm not a generally negative person. I always believed the best will happen, which as the past has showed was not always the case but you just can't give up.

"Since I've been training hard since February/March something had to happen because training for nothing is very difficult."

The Canadian said he had enjoyed his time away from Formula One otherwise: "I've had a great time, I think I needed the break so I guess I'll have to thank (BAR boss) David (Richards) for that," he grinned.

 

© Copyright 2005 Reuters Limited. All rights reserved. Republication or redistribution of Reuters content, including by framing or similar means, is expressly prohibited without the prior written consent of Reuters. Reuters shall not be liable for any errors or delays in the content, or for any actions taken in reliance thereon.


Formula One: The Complete Coverage