Home > Sports > Tennis > Report


Shikha rattles Venus, goes down fighting

Tanmaya Kumar Nanda in New York | September 03, 2004 10:44 IST
Last Updated: September 03, 2004 11:34 IST



So near, yet so far. And yet, if spirit be the test of a game well played, Shikha Uberoi was a winner all the way.

Outseeded and outranked, Uberoi put on her bravest face and her best smile as she stepped out to the magnificent Arthur Ashe stadium in New York to face her friend and some time hitting partner, former US Open champion and World No. 1 Venus Williams and gave her the scare of her life. Never mind that she lost; the score read 5-7, 1-6, but the ovation she got from the crowd was enough to ensure her immediate star status.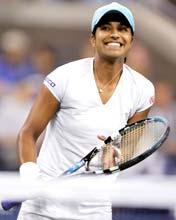 Being only 21, which is old by pro tennis standards but fairly low on the human index, Uberoi appeared red-eyed and almost choking at her post-match conference where one of the first questions posed to her was "Where have you been, have you even played the junior circuit?'
And that perhaps tells the story of her grit more than anything. Ranked a measly 275, few would have given her a chance before the match; at the end of it, the crowd was wondering the same thing: who is this girl who came out of nowhere and rattled 11th-seed Williams enough for her to have to raise her game several notches.
Indeed, a few more first serves in and some more experience and the scoreline could have been tighter -- what the hell, the scoreline might have been different!
In the 11th game of the first set, tied at 5-5, Uberoi, serving, and Williams traded 9 deuces; a better first serve rate and Uberoi could have swung it. After all, she had already broken the formidable Williams in the fourth game already, racing to a 4-1 lead in the set before Williams decided to pull herself together to reel off the next three games.
| | |
| --- | --- |
| | Also Read |
| | |
But through the first set, it was anyone's game, as Uberoi traded groundstrokes with scant respect for the Williams' reputation, breaking her in the second game and then again in the fourth for a lead that had Indian fans in the stands holding their breath one moment and roaring it out the next.

Coming into this second round match, Uberoi had already played four qualifying matches and won her first round. There was some nervousness before the match, in no small part due to the setting - this is Center Court, the arena of champions - but as she put it "It wasn't as overwhelming as I thought it would be, it was the greatest party of my life, I've never had so many people cheering for me ever before in my life."

In the end, though, the devil is in the detail. And the statistics tell a story that Uberoi will do well to keep in mind. In the first set, Williams had a first serve percentage of 59, Uberoi had 50; in the second, Williams had 69, Uberoi only 48; Williams had two double faults each, Uberoi had 1 and 4; in the first, Williams had 75 percent first serve, winning points and 82 in the second, Uberoi had 56 and 50.

After that tense 11th game in the first set, also, the experience of being Venus Williams came to the fore as she eased into high gear, found her rhythm, giving Uberoi little space to maneuver.

Be that as it may, the scoreline is no indicator of the fight that Uberoi showed. And given that she often hit clean winners and forced Williams into errors, it was easy to forget this was first time in the US Open main draw (she only got into the qualifying rounds due to a wild card), her first time at Arthur Ashe, her first time at being the cynosure of thousands of pairs of eyes. But it was a first to be proud of.

As her coach Rick Macci put it: "What we saw out there today was the start of the career of Shikha Uberoi."





What do you think about the story?








Read what others have to say:





Number of User Comments: 2








Sub: Well then

That was not the kind of response you need, what the column does is provide an insight to an NRI who is doing real well, ...


Posted by Rakesh Narayan









Sub: Shikha

This is a pathetic article she is a US citizen there ends the matter. Iam dismayed to see that there is absolutely no coverage of ...


Posted by mangesh






Disclaimer