Home > Sports > Formula One > Reuters > Report


Schumacher and Ferrari simply unstoppable

Alan Baldwin | October 21, 2004 11:42 IST



Michael Schumacher and Ferrari got it right while Bernie Ecclestone, along with most of the pundits, was wrong.

When the final chequered flag of the Formula One season comes down in Brazil this weekend, the sport will have time to reflect on a year that confounded all expectations.

By the time night falls at Interlagos on Sunday, Ferrari could be celebrating a 16th win in 18 races, Schumacher his 14th after setting records for the most victories and points scored in a single season.

Yet few, if any, had predicted back in March such a crushing -- some would say boring -- display of dominance from the Italian team and Schumacher, who had sealed his unprecedented seventh championship by the end of August.

Who could have imagined that McLaren and Williams, former champions backed by the might of Mercedes and BMW, would be left to battle for fourth place in the constructors' standings?

Or that BAR, for so long under-performers, would be Ferrari's main rivals with Briton Jenson Button becoming a podium regular?

This after all was supposed to be the year that saw a fading Schumacher dethroned by McLaren's Kimi Raikkonen or one of the other hungry young lions watching for a sign of weakness from the 35-year-old German.

RED ALERT

Last year Schumacher had struggled, particularly in the Japanese season-ender, before beating Juan Manuel Fangio's record of five titles. There were whispers of impending retirement, talk that he was past his prime.

Even the sport's savvy commercial supremo Ecclestone tipped 25-year-old Finn Raikkonen, runner-up in the thrilling 2003 title battle, to become the sport's youngest champion.

McLaren and Williams were heavily fancied while Renault and BAR promised to make it one of the closest fights in years.

Ferrari had a different script in mind and after just one race the game was up.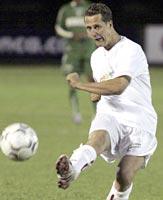 Schumacher and Brazilian teammate Rubens Barrichello blew away the rest in the opening Australian Grand Prix after sweeping the front row of the grid in qualifying.
Raikkonen lasted just 10 laps before his engine exploded, a taste of what was to come as McLaren began a freefall towards their worst start to a season in 23 years.
Williams suffered a setback when Ralf Schumacher was injured at Indianapolis in June and missed six races.
But Michael won in Malaysia, at the Middle East's first grand prix in Bahrain, in Imola -- on the 10th anniversary of Ayrton Senna's death in the San Marino Grand Prix -- and Spain.
By the time Monaco came around the bets were on whether or not Schumacher could sweep everything.
One British journalist even declared that he would run naked around Silverstone if McLaren won a race, a bet that returned to haunt him when Raikkonen celebrated at Spa in Belgium.
MONACO BLIP
Monaco belonged to Renault and Jarno Trulli, however, the Italian ending Schumacher's run with a fine win from pole position on the treacherous street circuit.
Schumacher's race ended on three wheels after a bizarre collision with Williams' Colombian Juan Pablo Montoya behind the safety car in the tunnel.
That win, his first, was Trulli's finest hour. By the end of July he had fallen out with team boss Flavio Briatore and announced his departure to Toyota.
Schumacher won the next seven races and it was not until Belgium that he met his match.
With both titles won, Barrichello was then able to shine in Italy and the inaugural race in China before Schumacher recovered from a Shanghai nightmare to win in Japan.
| | |
| --- | --- |
| | Also Read |
| | |
If the championship was a one-horse race, despite Button's best efforts to try to secure BAR's first win, there was uncertainty elsewhere.

At the epicenter was Ford's bombshell announcement in September that they were pulling out of Formula One, selling their Jaguar team and engine maker Cosworth.

With Cosworth providing engines for both struggling Jordan and Minardi, the sport faced the possibility of a depleted grid and some teams being forced to run three cars to make up the numbers.

The driver market, already shaken by sudden departures and the surprise return of former champion Jacques Villeneuve at Renault, was thrown into turmoil by a tug-of-war between Williams and BAR over Button.

A further tremor followed when Ecclestone said that Silverstone, home of the British Grand Prix and host of the first Formula One championship race in 1950, was being axed from the 2005 calendar.

Qualifying was criticised, and looks set to be changed next season, while engine makers opposed new rules due to be introduced to slow cars on safety grounds.

Yet, despite the lack of championship suspense, Formula One showed that its allure remained strong and the announcement that two new teams planned to enter in 2006, one from Dubai and the other backed by a Russian-born Canadian, offered hope for the future.

© Copyright 2005 Reuters Limited. All rights reserved. Republication or redistribution of Reuters content, including by framing or similar means, is expressly prohibited without the prior written consent of Reuters. Reuters shall not be liable for any errors or delays in the content, or for any actions taken in reliance thereon.


Formula One: The Complete Coverage