Home > Sports > News > Reuters > Report


Amateur prodigy is back to school

Elspeth Burnside | November 09, 2004 12:02 IST

Amateur prodigy Michelle Wie will spend an uninterrupted few weeks studying at Punahou High School in Honolulu before the 15-year-old returns to learning her trade as a would-be professional golfer.

Wie, the most celebrated teenage player since Tiger Woods, continued to prove in 2004 that she is already capable of competing on the LPGA Tour.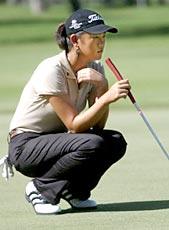 However, the fact that she has failed to collect any silverware this season rankles with her and provides ammunition for those critics who say she should be concentrating on winning junior and amateur titles.
Wie has played in 17 LPGA events over the past three seasons. In seven starts this year, she finished outside the top 20 only once and had two top 10s, including a fourth place in a major, the Kraft Nabisco Championships.
If she had been a professional, she would have ended the season with $278,000, good enough for 40th place in the LPGA money list.
Next year, she is certain to accept the six sponsors' invitations allowed for amateurs on the LPGA circuit, while her 2005 campaign is likely to begin with an appearance in the PGA Tour's Mercedes Championship pro-am in her native Hawaii.
TOP MEN
Later in January, she seems certain to repeat her experience of playing alongside the world's top men at the Sony Open. Last year, she startled and impressed the sporting world by missing the cut by just one shot.
"I've not heard anything as yet," said Wie. "But it would be great to play in the Sony Open again.
"I think I've shown again this year that I am capable of playing alongside the professionals (on the LPGA Tour), but it will be back to the books for the next few weeks.
"It has been a little disappointing that I haven't won anything this year. But I've been working hard on my game and I'm able to work the ball far better than I could when I was 12 or 13.
"My mental approach is so much better," she added, "I have much more control, I'm more experienced and I'm not making so many bogeys or double-bogeys."
SOMETHING NEW
Many observers, Woods among them, believe Wie should concentrate more on becoming a regular winner at junior and amateur level.
| | |
| --- | --- |
| | Also Read |
| | |
The Hawaiian teenager, however, disagrees: "I did win a host of tournaments when I was nine or 10 before the cameras were around. But then I wanted to try something new."

"I'm not stupid," she added. "I wouldn't come out (on the LPGA Tour) if I didn't enjoy it. It's fun missing school and I love competing with the top players."

For the moment, she is in no rush to turn professional and sign one of several $1 million contracts that would be available to her.

"I'm not ready to handle that kind of money," she said. "For me, golf is still a hobby, not a job and I enjoy getting away from the tension and going back to high school.

"I don't see me turning professional before I'm 18."

© Copyright 2005 Reuters Limited. All rights reserved. Republication or redistribution of Reuters content, including by framing or similar means, is expressly prohibited without the prior written consent of Reuters. Reuters shall not be liable for any errors or delays in the content, or for any actions taken in reliance thereon.