Home > Sports > News > Reuters > Report


Vijay Singh's golden run

Mark Lamport-Stokes | November 09, 2004 10:19 IST
Last Updated: November 09, 2004 10:37 IST

Statistics in sport often tell only half the story.

In the case of the 2004 U.S. PGA Tour, however, Vijay Singh's dominance and remarkable tally of nine victories are accurately reflected by the black and white of the figures.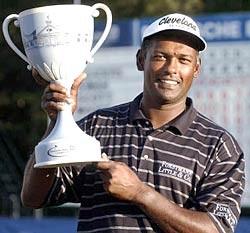 The workaholic Fijian, who ended Tiger Woods's five-year reign as world number one two months ago, became the first player in tour history to earn more than $10 million in a single season.
He ended his campaign in a tie for ninth at the Tour Championship on Sunday, boosting his earnings to an astonishing $10,905,166.
Three-times major winner Ernie Els, who finished second in the U.S. money list, was more than $5,000,000 adrift.
U.S. Masters champion Phil Mickelson used just three words to sum up Singh's season when asked for his opinion at last week's Tour Championship.
"It's been sensational," he replied. "There's no other way to describe it. It's been amazing."
Woods, now ranked third in the world, agreed.
'UNBELIEVABLE GOLF'
"He's had one of the great years," he said. "He's played some just unbelievable golf.
"For a person who has really struggled with his putting and gone to the belly putter and all that kind of stuff, to make a switch midstream during a season and still play as well as he has is a testament to how hard he works."
The 41-year-old Singh switched back to a conventional blade from a belly putter in July and went on to clinch the U.S. PGA Championship in a three-way playoff at Whistling Straits the following month.
Of the eight tournaments he played during August, September and October, he won six and tied for second in another.
| | |
| --- | --- |
| | Also Read |
| | |
Overall, he produced 18 top-10 finishes this season in 29 starts, 28 of which were strokeplay events.

In stark financial terms, Singh won himself $376,040 every week he played, or $1,423 every time he struck a shot in the strokeplay format.

He missed just one cut and his haul of nine wins, including his third major title, was the most in a single season since Woods in 2000, also with nine.

Byron Nelson, in 1945, Ben Hogan, in 1946 and 1948, and Sam Snead, in 1950, are the only players to have won more.

INCREDIBLE THING

"It would have been nice to get 10 wins, but I'll take nine," Singh said after the Tour Championship. "Ten wins is a dream year, and it hasn't happened in some 50 years. It would be just an incredible thing to accomplish.

"But this whole year has been good for me. You don't really wake up one day and think you're going to be able to play like I did this year.
| | |
| --- | --- |
| | Also Read |
| | |
"There's a build-up to it. You win one and then you win another one. You feel more comfortable and more confident, and it snowballs. You can't wait to get to the next hole and play better. That's how it's been."

The most accurate yardstick of a player's form is scoring average and Singh ruled supreme in this category during 2004, the world number one's mean of 68.84 securing him the prized Vardon Trophy for the first time.

He also led the PGA Tour in total birdies for the season, his tally of 484 the second highest in history after American Steve Flesch's 493 in 2000.

Singh's haul of 64 sub-70 rounds was also the second best in tour history, after Flesch's 66 in 2000, and he jointly led the tour in total eagles for the season, tying Australia's Geoff Ogilvy with 17.

There were several other moments to cherish on the 2004 PGA Tour, among them Mickelson's long-awaited major breakthrough at the U.S. Masters in April and John Daly's first tour victory in nine years at the Buick Invitational in February.

There was also the ice-cool play of South Africa's Retief Goosen, despite extreme last-day pressure, as he clinched the U.S. Open at Shinnecock Hills in June and the season-ending Tour Championship at Atlanta's East Lake Golf Club on Sunday.

Above all, though, 2004 will be remembered for Singh's golden run of form that led to one of the greatest individual years in the history of the game.

© Copyright 2005 Reuters Limited. All rights reserved. Republication or redistribution of Reuters content, including by framing or similar means, is expressly prohibited without the prior written consent of Reuters. Reuters shall not be liable for any errors or delays in the content, or for any actions taken in reliance thereon.