Home > Sports > Formula One > Reuters > Report


Defeat makes Schumacher hungrier than ever

May 26, 2004 16:33 IST

Defeat has made Michael Schumacher even more determined to win Sunday's European Grand Prix at the Nuerburgring.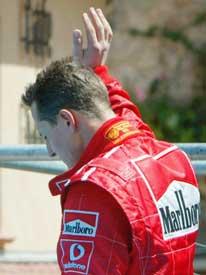 Ferrari's six-times world champion intends to come back stronger than ever in front of his home fans after his run of five wins in a row came crashing to a halt in Monaco last weekend.
It is not often that Italy celebrates after the German ace drives into a wall, as he did in the tunnel behind the safety car on Sunday.
However, Jarno Trulli's first Formula One success for Renault had Italians cheering someone other than the 'Red Baron' and the runaway championship leader will not want any more wavering loyalties in his own backyard.
"I am always pleased to return to the Nuerburgring, but this time is even more special," Schumacher told the Ferrari website before the seventh round of the championship.
"Only a week since the Monaco race...I have the chance to transform the disappointment of Monte Carlo into a successful event and this really motivates me.
"I hope to have the support of the fans who have always been behind me," he added. "It is the first race in Germany this year and it is my home race. The circuit is close to my home town of Kerpen and I feel even more motivated than usual.
"Racing here always gives me a good feeling and I don't feel any pressure, as some might think."
Ferrari lead the championship with 88 points to Renault's 52 while Schumacher heads the drivers' standings with 50 to team mate Rubens Barrichello's 38. BAR's Briton Jenson Button is third on 32.
Ferrari have won at the Nuerburgring three times in the last four years, although Williams enjoyed a one-two last year with Schumacher's younger brother Ralf and Colombian Juan Pablo Montoya.
Schumacher collided with Montoya in the Monaco tunnel and their return to the Nuerburgring will revive memories of another clash between the two.
The German was sent spinning into the gravel at the circuit last year when he and Montoya came together, Schumacher fighting back to fifth place after obliging marshals pushed him back on to the road.
"After a pointless Monaco, my objective can only be to challenge for victory and this is all I have in mind," said the German. "I am sure that we are in with a good chance."
Renault and BAR, with Trulli and Button scoring in every race so far, will be strong challengers along with Williams.
"A repeat performance would be more than welcome," said Ralf of his 2003 win. "I will obviously do everything I can to make it happen, although our package is not working as well as it was last year."
Button is brimming with confidence after his second place in Monaco: "We have a good car that should suit the Nuerburgring circuit well," he said.
"I have gone very well there over the last couple of years, so I am really looking forward to it."
The Nuerburgring is also a home circuit for Mercedes, McLaren's engine partners, and they will be looking for a revival after slumping to sixth place in the championship with just five points.
Finland's Kimi Raikkonen started on pole last year and was comfortably ahead until his engine blew. With four retirements in six starts, getting to the finish will be a definite improvement for him.
© Copyright 2005 Reuters Limited. All rights reserved. Republication or redistribution of Reuters content, including by framing or similar means, is expressly prohibited without the prior written consent of Reuters. Reuters shall not be liable for any errors or delays in the content, or for any actions taken in reliance thereon.

Formula One: The Complete Coverage