Home > Sports > Specials


The Rediff Special/

March 25, 2004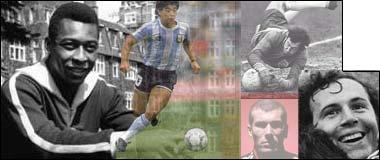 Who is the world's greatest footballer?

11. Gerd Muller (Germany)

Position: Striker

World Cups: 1970 (3rd), 1974 (winner)

In 62 internationals Muller scored 68 goals, and the 14 he slotted in during the 1970 and 1974 World Cups make him the most prolific goal scorer in the history of the competition.

His predatory instincts in front of goal were amazing. He needed only a sniff of a chance to put the ball into the net. 'Der Bomber,' as he was affectionately known, was without doubt Germany's deadliest forward.

12. Dino Zoff (Italy)

Position: Goalkeeper

World Cups: 1974, 1978 (4th), 1982 (winner)

When Italy won the World Cup in 1982, Zoff became the oldest player to lift the trophy. He was 40. Always focused and composed, great inside the box, magnificent on the line, he was the supreme professional. His inspirational leadership played an vital role in Italy's 1982 World Cup triumph.

Zoff was capped a record 112 times for Italy. When he came in to the 1974 World Cup he had another unique distinction: not having conceded a goal in 1,147 minutes, that is 13 games from September 1972 to June 1974.

13. Marco van Basten (Holland)

Position: Striker

World Cups: 1990

Pressure brought out the best from this Dutch striker. He was graceful, yet powerful, could strike with either foot and quick on the turn and supreme in the air.

The Dutch team had been one of the world's heavyweights for long but starved of success in major championships after Johan Cryuff called it a day. In 1988, van Basten's superb form in front of goal helped Holland win the European Championships and break their drought.

He won the European Player of the Year award thrice -- 1988, 1989 and 1992. He was also World Footballer of the Year 1988 and 1992
14. Johan Cruyff (Holland) 
Position: Midfielder
World Cup: 1974
While most soccer stars are known for distinctive playing styles, Johann Cruyff is credited with initiating a whole soccer movement -- 'Total Soccer.'
Cruyff's gift to soccer was a revolutionary approach where players were encouraged to play attacking soccer without being tied down to a role or formation.
He made his debut for Ajax in the Dutch league at 19. In his first year itself, he emerged the league's top scorer. From thereon, there was no looking back. He was voted European Footballer of the Year thrice, having been part of the winning Dutch squad. A natural winner, he was, however, on the losing side when Holland made it to the 1974 World Cup final.
15. George Best (Northern Ireland)
Position: Midfielder
Pele named him his favourite player, which was remarkable considering Best's international career with Northern Ireland never allowed him the opportunity of appearing in the World Cup final.
'He was quick, two-footed, beautifully balanced,' his friend television personality Michael Parkinson once wrote. 'He could hit long and short passes with equal precision, was swift and fearless in the tackle and he reintroduced the verb to dribble. He was as imaginative and whimsical in midfield as he was economical and deadly given a chance at goal.'
Best reached unimaginable heights with his outrageous skills in a career that lasted a mere six years at the top, before self-destructing into alcoholism, bankruptcy and jail. He was one of football's many flawed geniuses, and arguably the greatest of them all.
More Specials


What do you think about the story?








Read what others have to say:





Number of User Comments: 17








Sub: THE WORLDS GREATEST PLAYER

I think pele of Brazil should be the worlds greatest player the world can boast of now.The second in line should be Argentinas Diego Maradona.


Posted by IKPOKPO AKPOS KELVIN









Sub: Zidane would stand High

I think Zidane is the world's best player.Pele, Platini or Maradonna are other options but at their time football had a classic erra.In the modern ...


Posted by Vinish Puravankara









Sub: ''Whois teh greatest footballer''

The Greatest Footballers as per my view are, No. 1 - Diego Maradona No. 2 - Johan Cryuff 3. Zico


Posted by Yashwant Rawat









Sub: ZIZOU

The Magician from Marseille is number one.HE IS RIGHT UP THER WITH PELE.He is the most complete footballer ever.Maradonna was a flawed genius who used ...


Posted by OSAMA









Sub: world\'s greatest player

may be zizou is the greatest soccer player of modern era,but we shud not forget the man who brought the real soccer to life-JOHAN CRYUFF!!an ...


Posted by sabyachi ray






Disclaimer