Home > Sports > News > Reuters > Report


Formula One broadens its horizons

Alan Baldwin | March 01, 2004 21:05 IST

The Formula One world championship, once predominantly European, is becoming increasingly global.

The glamour sport breaks new ground this year, travelling to Bahrain for the first race in the Middle East and bringing the world's most populous nation on board with a long-awaited Chinese Grand Prix.

Bahrain is the third round of the championship on April 4 while China's Shanghai debut is on September 26.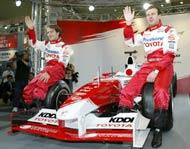 The Gulf state has been racing against time to complete a state-of-the-art circuit in the desert before the first chequered flag of the season with next weekend's Australian Grand Prix in Melbourne.
International Automobile Federation (FIA) race director Charlie Whiting was in Bahrain last week to take a closer look at the Sakhir track.
His verdict is eagerly awaited but there is no question that everyone in Formula One, from commercial supremo Bernie Ecclestone through to the 10 teams and their sponsors, desperately want the newcomers to succeed.
Ecclestone has said repeatedly that the sport's future lies increasingly in the developing world, with a fistful of countries jockeying for position to replace races in danger of being axed as a result of European Union anti-tobacco legislation.
Malaysia, in 1999, was the last completely new entrant with a circuit that set the benchmark for excellence and left many of Europe's old favourites looking distinctly shabby.
China, a major market for sponsors and carmakers, offers the prospect of a vast audience. Ticket sales could well be the biggest yet for a Formula One race while local television viewing figures promise to go through the roof.
"We will get as big an audience in China this year as in Europe," said Ecclestone last month. "Then there will be Turkey in 2005, Korea in 2009 and probably India."
| | |
| --- | --- |
| | Also Read |
| | |
"In the next 10 years Europe is going to become a third-world economy," added Ecclestone. "There's no way Europe will be able to compete with China, Korea, India."
"That's why we've been trying to do something in China for the past 10 years."
Russia, a second race in the United States and possibly a return to South Africa remain on the wish list while the calendar is already bigger than ever before with a record 18 rounds scheduled this year.
Both Bahrain, which has had to counter fears of terror threats, and China will be lavish and highly colourful affairs.
Already a string of Formula One drivers and team bosses have made their way to both venues to enthuse about the prospect of racing there.
"I am amazed at this place," said Eddie Jordan, not a man usually lost for words, when he visited Bahrain in January. "It's almost beyond description actually."
"It is going to provide drivers with overtaking opportunities and will, I'm sure, provide the global television audience and spectators with a sensational race."
Williams driver Ralf Schumacher, who could be the man spraying the winner's non-alcoholic champagne come April, said the circuit with its shaded Arabian-style grandstands was the most modern he had ever seen.
"The most important thing is overtaking and I've seen three opportunities for that," he said after being driven around the track. "It will be fast, challenging and very demanding."
It will also be a step into the unknown, both strategically and technically with drivers having to contend with both searing temperatures and, possibly, sand.
"We don't know whether Bahrain will be particularly sandy," Michelin boss Pierre Dupasquier commented at the time of the Jaguar launch in January. "If they get an unfavourable wind and some sand is blown across the track then that will obviously be something we have to look out for."
"That's not an uncommon event -- the Dutch racetrack Zandvoort is built among sand dunes and when we used to race there the sand would often end up on the circuit."
Organisers say the problem has been anticipated however, with a binding solution added to the track runoff and high-grip asphalt used.
Both the new circuits are the work of German designer Hermann Tilke, the man also responsible for Sepang in Malaysia, who has tried to give them a local flavour.
"We want to show that we're actually in the desert," he said of Bahrain in F1 Racing magazine. "So the paddock and start/finish line will resemble an oasis. The cars then disappear into the desert before returning to the oasis."
"Chinese culture is also rich in symbolism so we've worked with that. For example, the track itself is shaped like the sign of 'Shang' which means great or rising."
© Copyright 2005 Reuters Limited. All rights reserved. Republication or redistribution of Reuters content, including by framing or similar means, is expressly prohibited without the prior written consent of Reuters. Reuters shall not be liable for any errors or delays in the content, or for any actions taken in reliance thereon.



What do you think about the story?








Read what others have to say:





Number of User Comments: 1








Sub: dubai f1 racetrack

u forget about dubai f1 racetrack,please refer gulf news friday sports,please include. j.chaturvedi


Posted by jayendra chaturvedi






Disclaimer