Home > Sports > Formula One > Reuters > Report


Montoya warns Button

Alan Baldwin | June 11, 2004 12:02 IST

Juan Pablo Montoya has warned Jenson Button that Japanese team mate Takuma Sato could beat him to the chequered flag for BAR's first Formula One win.

"Jenson is doing a very good job but Takuma is coming along really impressive in the last few races," the Colombian, who replaced Briton Button at Williams at the end of 2000, told reporters at the Canadian Grand Prix on Thursday.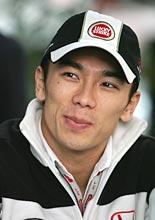 "It wouldn't surprise me if Takuma would win a race before Jenson," he added.
"I think he is a guy that tries really hard all the time and I think he's starting to find his limits."
BAR, for years Formula One's big overspenders and underperformers, have emerged as Ferrari's main challengers even if Renault are ahead of the Honda-powered team in the constructors' championship.
Few doubt that their first win is imminent, with some predicting it will come at the Gilles Villeneuve circuit on Sunday even if Ferrari's Michael Schumacher has won there for the past two years.
"This weekend I reckon," Jaguar's Australian Mark Webber said after being asked when he thought BAR might finally climb the top step of the podium.
"They are both very even, but I'd say Jenson is a bit more consistent," he added of the drivers. "But I think Takuma is fast and doing a bloody good job.
"There's things that could really work out for them here and it could be good to see them do it."
Schumacher, hoping to become the first driver in Formula One history to win the same race seven times, has already marked out BAR as his biggest threat but sees Button as the greater challenge.
"I think Takuma is a very good driver but the media tends to go after one highlight and push it up a little bit too much," Schumacher said.
"To me Jenson is very consistently up there and there is no reason not to believe that he is going to be the stronger one," the German added.
Button has been on the podium five times in seven races, taking pole position in the San Marino Grand Prix at Imola -- a circuit that shares some characteristics with Montreal -- where he also finished second.
Sato became the first Japanese to start a grand prix on the front row at the last race at the Nuerburgring and can become his country's highest points scorer this weekend.
No Japanese has finished higher than third in a grand prix and although he has yet to finish on the podium, Sato has won many admirers by his aggressive driving and refusal to be intimidated.
He carved between both Ferraris off the grid in Monaco, albeit from a dubious start, and collided with Brazilian Rubens Barrichello at the Nuerburgring as he attempted an audacious overtaking manoeuvre.
Sato agreed that Montreal should suit the BAR, with an upgraded engine, but also cautioned against rising expectations:
"Although we are challenging Ferrari a lot closer than we were last year there is still a significant gap between us and we still have to close the gap first," he said.
"To win a grand prix now, I think we need a lot of luck. Otherwise it is probably very difficult."
© Copyright 2005 Reuters Limited. All rights reserved. Republication or redistribution of Reuters content, including by framing or similar means, is expressly prohibited without the prior written consent of Reuters. Reuters shall not be liable for any errors or delays in the content, or for any actions taken in reliance thereon.

Formula One: The Complete Coverage