Home > Sports > Message Board


June 02, 2004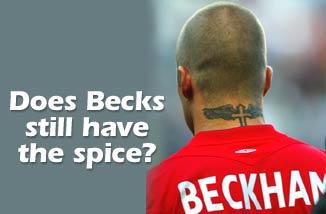 Captain David Beckham holds the key to England's fortunes in the European Football Championship, beginning in Portugal on June 12.
The twice semi-finalists are in a tough group with defending champions France, Switzerland, and Croatia and much will depend on the blond midfielder, who had a none-too-good season at Real Madrid, to see them through the group phase.
More than his football, Beckham's off-field problems have made headlines in recent months, which clearly reflected in his dismal showing for Real in their last few games. Could the same happen to England in the coming weeks?
At the 2002 World Cup, Beckham was inspirational in England reaching the quarter-finals, where they lost to eventual champions Brazil. Can he deliver in Portugal and lead England to their maiden Euro triumph? Can he prove to the world that his face and football are not just a marketing commodity?
Have your say.


What do you think about the story?








Read what others have to say:





Number of User Comments: 27








Sub: Becks

hii Beckham, for me has lost some spice in his play, his brillant free kicks have stopped coming he has not played upto his potential ...


Posted by Ram









Sub: STYLE OF BECK HAM

Present soccer world icon i.e. DEVID BECK HAM.Football lover always looking the sytle of devid beckham.Because of varities of style produced by devid beckham and ...


Posted by LALA VARIS A.









Sub: Becks

Certainly he does. Despite all the off-field presuures he has delived enough. Dunno why he alone is put under the microscope despite delivering better than ...


Posted by Rethna kumar









Sub: beckham sure can spice it but not on the field!

i wouldnt quite agree to people saying that beckham is a good player, i mean he does seem to earn goals to his names but ...


Posted by aakanksha









Sub: Does Becks still have the spice?

There is too much concentration on Beckham, no doubt he is a good player but Steven Gerrard, Paul Scholes and Frank Lampard are the key ...


Posted by nav






Disclaimer