Home > Sports > Hockey > Report


Believe you can, Dutt tells hockey team

Onkar Singh in New Delhi | June 01, 2004 21:03 IST



Union Minister for Sport and Youth Affairs Sunil Dutt met with the 26-member Indian hockey team at the Dhyan Chand stadium in New Delhi on Tuesday and expressed hope that it will benefit from the physical training camp it will undertake in Arizona, the United States, and be ship-shape for the Athens Olympics in August.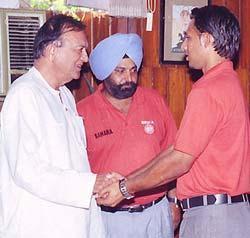 He surprised everyone at the meeting by naming senior players Dhanraj Pillay and Baljit Dhillon in his opening remarks.
"May I say how delighted I am to be here to meet you before your departure for the United States later tonight," the actor-turned politician said amidst applause from the players.
He went around the conference hall and shook hands with every player before the start of the meeting.
"I come from a college whose motto was 'I can and I will'. You too should have the same motto and confidence that you can and will win. I am sure this will do you a lot of good.
"We are with you. I am sure that you will bring back much more than the money our ministry is spending to send you to the USA for physical training," Dutt said.
He asked the players to place country before everything and pleaded with them not to suffer from any complex.
Exhorting them to follow the example of Congress president Sonia Gandhi, who, he said, sacrificed the prime ministership for the sake of the nation, he declared: "We must carry pride with us that we are Indians."
Asked why he is so confident that the team will win the gold medal at the coming Olympics, Dutt told rediff.com there is a difference between feeling and hope.
"I have a feeling that this young Indian hockey team will win the gold medal for us which has been eluding us for last 24 four years. I got this feeling while shaking hands with the members of the Indian contingent," he said.
He singled out Pillay for special mention.
"I have known Dhanraj for years and we have won an award on the same platform in Mumbai. While I was awarded for my social work, Pillay was for hockey. That was a special moment for the two of us."
He said he plans a big revival for almost all sports, adding that Indian teams should soon be doing well in all the spheres of life.
Dashing forward Gagan Ajit Singh said it was "a great gesture on Dutt's part to come and meet the players".
"He is a legend," he added.
The team will have physical fitness training at the Athletics Professional Institute in Phoenix, USA, till June 21 before moving to Amsterdam for another training session from June 22 to 24. It will then play a four-nation tournament in Holland from June 25 to July 4.
Photograph: Dijeshwar Singh/ Saab Press


What do you think about the story?








Read what others have to say:





Number of User Comments: 4








Sub: Great encouragement

This is great encouragement to the hockey team ... Hope that they would win the hockey medal for India in Athens. I hope that similar ...


Posted by Ashish









Sub: tahnks to dutt sahib

well a heartiest thanks to dutt sahib for appreciating the indian team with such a motto that 'i can and i will'. this motto has ...


Posted by naunihal









Sub: Our hockey team will gain experience !

Good encouragement from the Minister of Sports.


Posted by Dr. Cajetan Coelho









Sub: Mera Bharat Mahan

Training in the USA, Amsterdam, Looks like somebody has some understanding of the game at the higher level. Go INDIA go. Jor se bolo Mera ...


Posted by nandu






Disclaimer