Home > Sports > Formula One > Reuters > Report


Schumacher expects to be beaten again this year

July 26, 2004 15:38 IST

Michael Schumacher believes he will be beaten again this season despite the Ferrari ace racking up a record-equalling 11th win in 12 races in Germany on Sunday.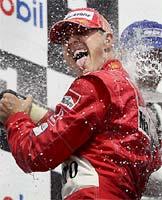 "I think it is impossible," said the six-times world champion when asked whether he might be able to win 17 of the season's 18 Grands Prix.
His rivals, if they can be called that in what is shaping up to be the most one-sided championship in Formula One history, hope that he is right.
They are optimistic that Hungary, the next venue on August 15 once Formula One's travelling circus has regrouped after a three-week break, will be a different story.
Schumacher did not win there last year, his Ferrari completely outpaced by Renault's Fernando Alonso.
So crushing was the young Spaniard's first win that he lapped Schumacher.
Renault's Jarno Trulli is the only man other than Schumacher to win this season, taking the Monaco Grand Prix, and the French team were confident after Alonso finished third at Hockenheim.
"We have my two favourite tracks coming now, Hungary and Spa," said Alonso.
"I think Hungary will suit our car, Spa as well, and we will go for the podium or victory if we have the possibility."
So, too, will BAR and McLaren, teams that showed their potential on Sunday.
Briton Jenson Button was second at Hockenheim for BAR, his seventh podium of the year, and might have gone one better had he not been penalised 10 places on the grid for an engine replacement on Friday.
"Jenson missed an opportunity this weekend," said McLaren's David Coulthard. "He had a car that was quick enough to be on the pole.
"I think he could have genuinely taken the race to Michael and beaten him here today."
Button left Hockenheim knowing that second place in the championship was more attainable than ever with Ferrari's Brazilian Rubens Barrichello only 13 points ahead of him.
"It is difficult to know where we stand," said the Englishman. "I know we have some new parts that maybe we will use in Hungary that will help us and I think that we have made the correct tyre choice for Hungary.
"I think that we have to be quietly confident that we can have a good race."
BAR boss David Richards added: "I've always said it, there will be circumstances when he (Schumacher) doesn't get it quite right and we will get everything right and that's the day when he will no longer be on the top step of the podium."
Coulthard believed McLaren could also be contenders after returning to form following a nightmare start to the year.
Kimi Raikkonen led, worried Schumacher and clocked the fastest lap of the race at Hockenheim before crashing.
"They (Ferrari) are not going to win them all, just most of them," said Coulthard. "There are going to be certain times where we can beat them.
"If we get track position in Budapest, it could be there. But there's no reason why the Ferrari won't work around Budapest other than that they had problems there last year."
© Copyright 2005 Reuters Limited. All rights reserved. Republication or redistribution of Reuters content, including by framing or similar means, is expressly prohibited without the prior written consent of Reuters. Reuters shall not be liable for any errors or delays in the content, or for any actions taken in reliance thereon.

Formula One: The Complete Coverage


What do you think about the story?








Read what others have to say:





Number of User Comments: 1








Sub: does it matter!

for those who think F1 is boring...look at the bright side...you're watching a contemporary legend at work...years down the line after michael schumacher retires atleast ...


Posted by an F1 fan






Disclaimer