Home > Sports > Formula One > Reuters > Report


F1 bosses fret about life after Mosley

Alan Baldwin | July 08, 2004 09:48 IST

Max Mosley will be a hard act to follow when he steps down as head of Formula One's governing body in October.

So much so that some team bosses are concerned that the sport, already facing considerable uncertainty, could be plunged into turmoil.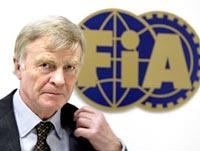 "I cannot imagine any individual who will have such a grasp of the issues that face Formula One as Max does now," said BAR's David Richards last weekend after Mosley had announced his impending departure.
"There could be a horrible vacuum.
"There will be people out there who will say 'well, that's good and now we can get back to what we want to do'. I fear that could be damaging. My own personal feeling is better the devil you know. I wish he would reconsider."
The 64-year-old Mosley has been involved in Formula One for more than three decades and president of the International Automobile Federation (FIA) for 13 years.
Close to commercial supremo Bernie Ecclestone, he has been a key player in negotiating agreements and forcing through changes.
He has helped to improve safety in the aftermath of the 1994 death of Brazilian Ayrton Senna and pushed through far-reaching changes in 2002 to liven up the racing after a season of Ferrari domination.
In what promises to be a final hurrah, Mosley is now intent on rewriting the rules to slow down cars.
| | |
| --- | --- |
| | Also Read |
| | |
Team technical directors sat down with the FIA's race director Charlie Whiting at Silverstone on Wednesday to consider 'drastic' measures that the FIA will impose in October unless other proposals are forthcoming by then.
Mosley told a news conference last week that he was confident that the changes, for safety's sake, would be agreed before he stepped down but others were not so sure.
"It's lighting the blue touch paper and then handing it over to another group of people," said Richards.
"I know Max believes that he can set the process and put it in place but I think that is a somewhat optimistic view of things.
"You do have to suggest that it is slightly inappropriate to make such radical change, and this is radical, and not see it right the way through.
"That change will be handed over to another group of people who I cannot believe will be more competent than Max to manage it and that gives me great concern."
Formula One is currently run according to a confidential 'Concorde Agreement' between the teams, the FIA and commercial rights holders.
The agreement expires in 2007, although the SLEC holding company founded by Ecclestone has a separate 100-year deal for the sport's commercial rights, and the teams want a far greater share of future revenues.
In the background there is still the threat of a manufacturer-run breakaway from 2008, however much Mosley has dismissed the carmakers' plans. There is much to argue about and it will take a determined and strong-minded person to bring the various parties together.
"Max was a fundamental player in being able to from time to time bring the teams together...every now and then you need someone with a strong arm to come along and say 'come on you guys, lets sort this out'," said Minardi's Paul Stoddart.
"I can't see anyone to take over that role. And I mean I can't see anyone.
"We have a real problem with fear of the unknown.
"We're at a time where we already have enough turmoil. We needed a steady negotiation through to a new (commercial) agreement and losing Max is I fear a big step backwards.
"If you have the wrong person as president of the FIA life could become incredibly difficult."
Ferrari boss Jean Todt said Mosley's going would certainly be a big loss for the FIA.
"You may like or dislike his way of working but his commitment is hard to find," he said. "To get somebody who spends 12 hours every day free of charge in his office, who is trying to be on top of all the problems -- that is unique.
"Sometimes he's a bit provocative but in our world you have to be provocative," he added.
McLaren's Ron Dennis, whose relations with Mosley have often been strained, was less concerned however.
"There are many people in the FIA who are deeply concerned about the direction in which both rallying and Formula One is going," he said.
"Not everybody has the same opinion within the FIA and I feel there will be a process implemented that will hopefully give us a president who understands that fundamentally we are well-equipped, as team principals, to run our businesses."
© Copyright 2005 Reuters Limited. All rights reserved. Republication or redistribution of Reuters content, including by framing or similar means, is expressly prohibited without the prior written consent of Reuters. Reuters shall not be liable for any errors or delays in the content, or for any actions taken in reliance thereon.

Formula One: The Complete Coverage