Home > Sports > News > Report


Anand shocked by Topalov

January 25, 2004 14:45 IST



Viswanathan Anand's unbeaten record at Corus since 1998 was brought to an end by Bulgarian Veselin Topalov in the penultimate round of the 66th edition of the Corus Grandmasters Chess tournament at Wijk Aan Zee.

The Indian Mind Champion, who had led virtually through the tournament still maintains his lead, but now by a slender half point, as Peter Leko and Michael Adams chase him hard.

Anand's defeat also brought his streak of 70 unbeaten games at Corus to an end. Anand's last loss at Corus was to Judit Polgar back in 1998.

Before Anand's loss to Topalov, Peter Leko had already finished his short 19-move draw against Evegeny Bareev from a French Rubinstein. Michael Adams joined Leko in the second slot as he scored a fine win over Jan Timman in 48 moves from a Sicilian Rauzer game.

Viorel Bologan and Veselin Topalov have tallied 6.5 points each while Kramnik, Akopian and Loek Van Wely have six points each.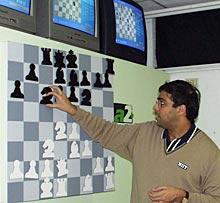 In the last round, Anand has white pieces against Ivan Sokolov white Peter Leko has black against Vladimir Kramnik and Adams has black against Peter Svidler. Interestingly, both Leko and Kramnik were due to meet for the Brain Games world title match, something that never happened. So, this will be a chance for Leko to battle it out against Kramnik, who surprisingly has been off-form and in the 12th round lost to lowly placed Sokolov.
In the final round, Anand with white only needs to draw to retain the title, while a win give him sole possession of the year's first big crown.
It was not a good day for the top three seeds, each of whom had black. Anand was beaten by Topalov, while Kramnik was stunned by Sokolov and Svidler, the third seed went down to Bologan.
Topalov, who was a last minute replacement in the tournament for Alexander Morozevich has always been a tough customer. Two years ago in Dortmund, he gave Anand a rough time and now.
In a Sicilian-Scheveningen, Anand with black looked somewhat uncomfortable, even though the speed of the early part of the game was very fast. Topalov began moving up on the Kingside with his before Anand castled on the Kingside. Then followed exchanges of pieces and soon they were left with a queen, bishops and rook each.
Topalov's queen and rook became menacing and with the dark bishop he was looking very strong. Anand tried to stop that by giving a rook for the dark bishop but Topalov managed to keep the pressure and ultimately the Indian resigned on the 44th move.
One of the big surprises of the day was Ivan Sokolov, lying right at the bottom before this round, who stunned Vladimir Kramnik in just 41 moves from a Queen's Indian Petrosyan.
Viorel Bologan beat Peter Svidler in a 39-move Gruenfeld game, while Loek Van Wely drew with Alexey Shirov in 50 moves of a Slav Defence and Vladimir Akopian was held to a draw by Zhang Zhong in the day's longest game lasting 61 moves from a Ruy Lopez.
Pairings for Round 13: Anand v Sokolov, Kramnik v Leko, Svidler v Adams, Timman v Topalov, Bareev v Akopian, Shirov v Bologan, Zhang  v Van Wely
Results of Round 12: Leko drew Bareev, Adams beat Timman, Topalov beat  Anand, Bologan beat Svidler, Van Wely drew with Shirov, Akopian drew with Zhang, Sokolov beat Kramnik.
Standings after Round 12: 1. Anand (IND) 8.0; 2. Leko (HUN)  and Adams (ENG)   7.5 each; 4. Topalov (BUL) and Bologan (MDA) 6.5 each; 6. Van Wely (NED), Kramnik (RUS),  Akopian (ARM) and Shirov (ESP) 6.0 each; 10. Svidler (RUS) and Bareev (RUS) 5.5 each; 12. Sokolov (NED)  and Zhang (CHN) 4.5 each; 14. Timman (NED) 4.0.
The Moves: (Topalov v Anand), Wijk Aan Zee, 2004, Round 12 Eco B80
1.e4 c5 2.Nf3 d6 3.d4 cxd4 4.Nxd4 Nf6 5.Nc3 a6 6.f3 e6 7.Be3 b5 8.g4 Nfd7 9.Qd2 Nb6 10.a4 bxa4 11.Nxa4 Nxa4 12.Rxa4 Be7 13.g5 0-0 14.h4 Bd7 15.Ra1 Nc6 16.Rxa6 Qc7 17.Kf2 Nxd4 18.Bxd4 e5 19.Be3 Rxa6 20.Bxa6 f5 21.gxf6 Bxf6 22.Qd5+ Kh8 23.Bc4 Be8 24.Be2 Bf7 25.Qd2 Bh5 26.b3 Qe7 27.Kg2 Qf7 28.Rh3 Be7 29.b4 h6 30.b5 Qg6+ 31.Kh2 Qe6 32.Qd3 Be8 33.Qb3 Qc8 34.b6 Bf7 35.Qb1 Qc3 36.Bd3 Rb8 37.Qg1 Bc4 38.Qg6 Bxd3 39.Rg3 Bf6 40.cxd3 Rxb6 41.Bxb6 Qb2+ 42.Rg2 Qxb6 43.Rc2 Bd8 44.h5 and Black resigns.