Home > Sports > Football > Reuters > Report


Football referee Collina to retire next year

January 20, 2004 19:32 IST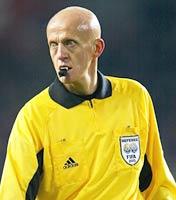 Football will bid arrivederci to top referee Pierluigi Collina next year when he will be forced to retire under Italian regulations.
"Next June, when I turn 45, I will retire, as the rules oblige me to do," Collina, known for his distinctive bald head and intense gaze, was quoted as saying by the news agency Ansa on Monday.
"Of course, deciding this on the basis of your identity papers is a bit arbitrary."
Under Italian Referees Association rules, professional referees must stand down at the age of 45 unless the president makes an exception. No one at the association was available to comment.
Without a reprieve, Euro 2004 in Portugal will be Collina's last major tournament. The popular Italian was in charge of the 2002 World Cup final between Brazil and Germany.
© Copyright 2005 Reuters Limited. All rights reserved. Republication or redistribution of Reuters content, including by framing or similar means, is expressly prohibited without the prior written consent of Reuters. Reuters shall not be liable for any errors or delays in the content, or for any actions taken in reliance thereon.