Home > Sports > News > Reuters > Report


Enigmatic Rivaldo faces familiar challenge

Brian Homewood | January 06, 2004 11:57 IST



It took only 18 months for Rivaldo to go from World Cup winner and national hero in his native Brazil to a figure of fun in Italy.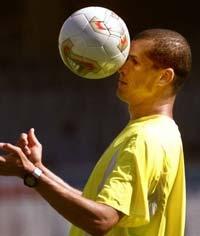 But having endured what he described as the worst year of his life with Serie A club AC Milan before being released last month, Rivaldo has the chance to put his career back on track after signing for Brazilian champions Cruzeiro on Monday.
It is a familiar challenge for the 31-year-old.
Although he was won football's ultimate team prize, the World Cup in 2002, and was voted FIFA's player of the year in 1999, Rivaldo is repeatedly having to prove to his detractors that he can play football.
Perhaps it is his seemingly awkward, bow-legged style on the pitch or possibly an introverted style that makes him a publicity man's nightmare off the field, but Rivaldo has become one of modern football's great enigmas.
He shuns the limelight to the same measure as his World Cup team mate Ronaldo attracts it.
While 'the Phenomenon' hops around the globe and revels in the publicity, Rivaldo prefers to shut himself away in the little-known provincial city of Mogi Mirim, in the heart of the state of Sao Paulo.
"He doesn't do any marketing and that maybe part of the problem," said Brazil coach Carlos Alberto Parreira recently.
OLYMPIC SCAPEGOAT
Whatever the reason, Rivaldo seems to attract the blame for collective failure far more easily than he gets the credit for success.
In 1996, after being included as one of three permitted over-age players, Rivaldo was made the scapegoat after Brazil failed to win the gold medal at the Atlanta Olympics soccer tournament. It was a year before he wore the Brazil shirt again.
During five years at Barcelona, his astonishing skills made him a favourite with the fans yet he was at one stage banished to the substitutes' bench by Dutch coach Louis van Gaal for alleged tactical disobedience.
In the 1998 World Cup Rivaldo played in all seven games and scored four goals as he helped steer Brazil to the final where they lost 3-0 to France.
His reward was to be accused of trying to upstage Ronaldo.
He then commuted to South America on an almost monthly basis to take part in the qualifiers for the 2002 World Cup -- and was accused of lacking commitment.
QUIT THREAT
After being jeered by the crowd in Sao Paulo during a qualifier against Colombia in 2000, Rivaldo even threatened to pack in his international career.
But he stuck with it and, after receiving the unconditional support of coach Luiz Felipe Scolari, helped his country to their fifth World Cup title in Japan and South Korea, only for another nightmare to begin after he signed for Milan.
Rivaldo was banished to the substitutes' bench by coach Carlo Ancelotti and, after finally being released last month, was voted the worst player in the country in a poll conducted by a local radio station.
For all the ups and downs, Rivaldo has insisted that he will not change his personality or his style.
He is confident that he will go down in Brazilian football history as the man who helped them to win an unprecedented fifth world title.
After the 2002 final against Germany, he said: "I played 14 games with the number ten shirt (in the 1998 and 2002 finals), a shirt that lots of great players have worn, and I'm sure that in the future lots of people will remember Rivaldo."
© Copyright 2005 Reuters Limited. All rights reserved. Republication or redistribution of Reuters content, including by framing or similar means, is expressly prohibited without the prior written consent of Reuters. Reuters shall not be liable for any errors or delays in the content, or for any actions taken in reliance thereon.